If you want more information about this topic just click on the hyperlinks in the article (the underlined blue print) to see more details.
If you're thinking of buying or selling a home, one of the biggest questions you have right now is probably: what's happening with home prices? And it's no surprise you don't have the clarity you need on that topic. Part of the issue is how headlines are talking about price. If you're thinking of buying or selling a home, one of the biggest questions you have right now is probably: what's happening with home prices? And it's no surprise you don't have the clarity you need on that topic. Part of the issue is how headlines are talking about prices.
They're basing their negative news by comparing current stats to the last few years. But you can't compare this year to the 'unicorn' years (when home prices reached record highs that were unsustainable). And as prices begin to normalize now, they're talking about it like it's a bad thing and making people fear what's next. But the worst home price declines are already behind us. What we're starting to see now is the return to more normal home price appreciation.
To help make home price trends easier to understand, let's focus on what's typical for the market and omit the last few years since they were anomalies. 
Let's start by talking about seasonality in real estate. In the housing market, there are predictable ebbs and flows that happen each year. Spring is the peak homebuying season when the market is most active. That activity is typically still strong in the summer but begins to wane as the cooler months approach. Home prices follow along with seasonality because prices appreciate most when something is in high demand.
That's why, before the abnormal years we just experienced, there was a reliable long-term home price trend. The graph below uses data from Case-Shiller to show typical monthly home price movement from 1973 through 2021 (not adjusted, so you can see the seasonality):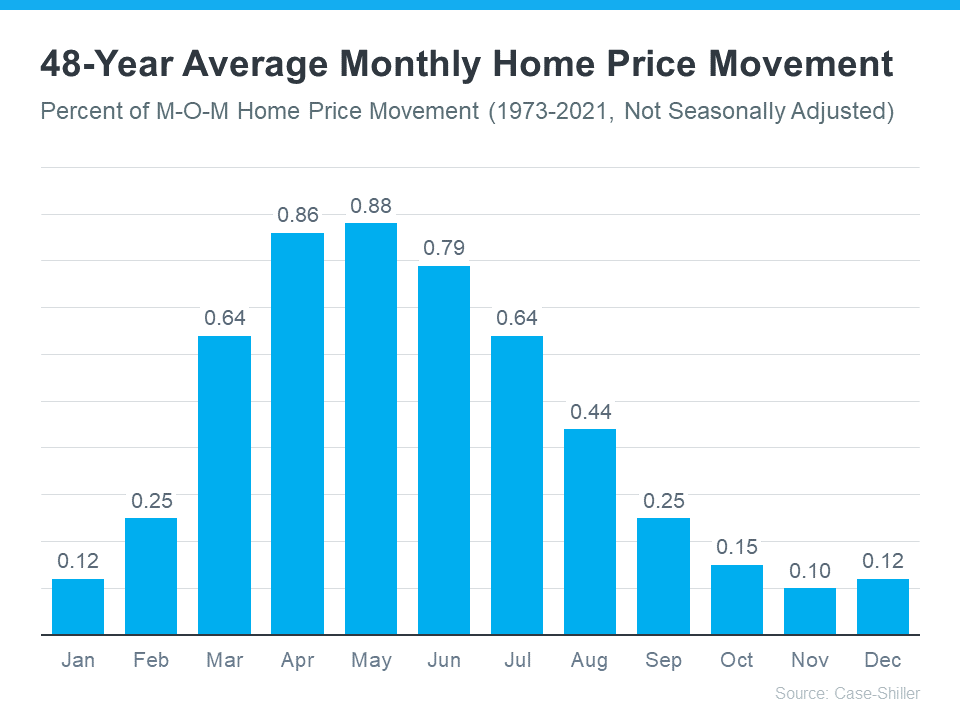 As the data from the last 48 years shows, at the beginning of the year, home prices grow, but not as much as they do entering the spring and summer markets. That's because the market is less active in January and February since fewer people move in the cooler months.  The market heats up in the Summer because families want to get their deals done before school starts. That raises the demand against a fixed supply and what always happens when demand goes up and supply is unchanged. PRICES GO UP!!!! Then, as fall and winter approach, demand eases off again. Price growth slows, but still typically appreciates.
Why This Is So Important to Understand
In the coming months, as the housing market moves further into a more predictable seasonal rhythm, you're going to see even more headlines that either get what's happening with home prices wrong or, at the very least, are misleading. Those headlines might use a number of price terms, like:
Appreciation: when prices increase.
Deceleration of appreciation: when prices continue to appreciate, but at a slower or more moderate pace.
Depreciation: when prices decrease.
They're going to mistake the slowing home price growth (deceleration of appreciation) that's typical of market seasonality in the fall and winter and think prices are falling (depreciation). Don't let those headlines confuse you or spark fear. Instead, remember it's normal to see a deceleration of appreciation, slowing home price growth, as the months go by.
To see what is really happening in the West Chester area, please check out the chart below.
CHESCO, MEDIAN SALES PRICE, SINGLE FAMILY HOMES
Month
Sale Price
Sale Price
Difference
% Diff
Sale Price
Difference
% Diff
2021
2022
2023
Jan
$452,500
$484,900
$32,400
7.2%
$525,000
$40,100
8.3%
Feb
$441,700
$510,000
$68,300
15.5%
$511,250
$1,250
0.2%
Mar
$495,000
$525,000
$30,000
6.1%
$545,000
$20,000
3.8%
Apr
$481,250
$540,000
$58,750
12.2%
$545,000
$5,000
0.9%
May
$512,021
$531,055
$19,034
3.7%
$579,000
$47,945
9.0%
Jun
$515,000
$600,000
$85,000
16.5%
$605,000
$5,000
0.8%
Jul
$531,000
$575,000
$44,000
8.3%
Aug
$498,000
$550,000
$52,000
10.4%
Sep
$479,900
$540,000
$60,100
12.5%
Oct
$494,075
$549,500
$55,425
11.2%
Nov
$499,000
$545,000
$46,000
9.2%
Dec

$508,961

$500,000

($8,961)

-1.8%
Annual
$492,367
$537,538
$45,171
9.2%
YTD, June
$482,912
$531,826
$48,914
10.1%
$551,708
$19,883
3.7%
As shown by the data in blue, for eleven of the twelve months in 2022, median prices were higher in the West Chester area than in the esame month in 2021. Only exception was in December.
This same trend was continued in 2023 for all of the first six months.
Those data points tell us that the real estate market in the Westchester area is stable and strong!!!!
A headline seeker could say that in the first six months of 2022, prices went up by 10.2% and only 3.7% in 2023. That is called a deceleration of appreciation, but it is still appreciation.
here is what you need to do to make the right decision for you
Buyers: If you've been holding off on

 

buying

because you were worried the value of your home would go down, knowing home prices are stable and increasing is reasuring. It also gives you the opportunity to own something that usually becomes more

 

valuable as time goes on.
Sellers: If you've been waiting to sell your house because you were concerned about how changing home prices would affect its value, this should also reassure you. Even with the recent increase in mortgage rates, teaming with a real estate agent and getting your house on the market is the logical and smartest thing to do.
It's also important to remember that every local market is different. That's why it's essential to lean on an expert for the latest information on the market in your area if you're planning to make a move. I would like to become that real estate expert upon whom you can lean.
Do I think that now is a good time to buy that first house or to sell and make that move up buy?  Again, absolutely yes.
To get a quick update of what is new in real estate, click here to check out our new videos.
Interested in what recent clients think of my service? Click here to read what they say.
Interested to know what your house is worth? Click here to get the most extensive and accurate estimate of home value that is available on the Internet. No cost or obligation of course.
No doubt, the housing market is shifting, and it can be a confusing place right now. I suggest that we connect so that I can help you make confident and informed decisions about what's happening. Minimize the fear or uncertainty that could change your plans. If you're unsure about how to make sense of what's going on in today's housing market, text or call me at 484-574-4088 or go to my web site, (johnherreid.com) and lets set up a time to meet, either on line or in person. I have the software so that we can meet virtually and make the best use of your time.
If you're looking to make that move up buy this year, I believe now is a good time to do it. The best way to ensure you're up to date on the latest market insights is to partner with a trusted real estate advisor. Let's connect. I would like to interview for the job of becoming your trusted real estate advisor.
One of the biggest benefits of owning a home, regardless of your income level, is that it provides financial stability and an avenue to build wealth. By selling your house and leveraging your equity, it can be easier to pay for your next home. Let's connect to find out how much equity you have in your current home and how you can use it to fuel your next purchase.
There are still clear opportunities for sellers this spring. If you're wondering if it's the right time to make a move, let's connect today.
There are plenty of buyers out there right now trying to find a home that fits their needs. That's because the job market is strong, and many people have the stable income needed to seriously consider homeownership. To put your house on the market and get in on the action, let's connect
There will be very unsettling headlines around the housing market this year. Most will be wrong.
Let's connect so you have an expert on your side to help you keep everything in proper perspective.