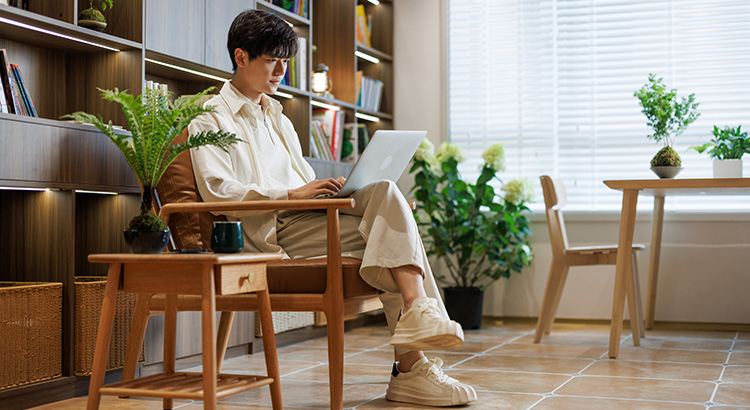 Even as some companies transition back into the office, remote work remains a popular choice for many professionals. So, if you currently enjoy working from home or hope to be able to soon, you're not alone. According to a recent survey, most working professionals want to work either fully remote or a hybrid of in office and remote work.  (see below):
The most surprising piece of this new survey is that only 5% of working professionals want to work full time in company office. Smart comanies will take advantage of  this and structure their work processes to allow their people to work remotely and thus get the most capable people to work for them.
And conversely, these new preferences will allow the savvy job seeker to find the company that best fits his or her work environment.
And the companies that insisit on people coming to a central office, run the risk of losing their best people to more flexible and forward looking organizations.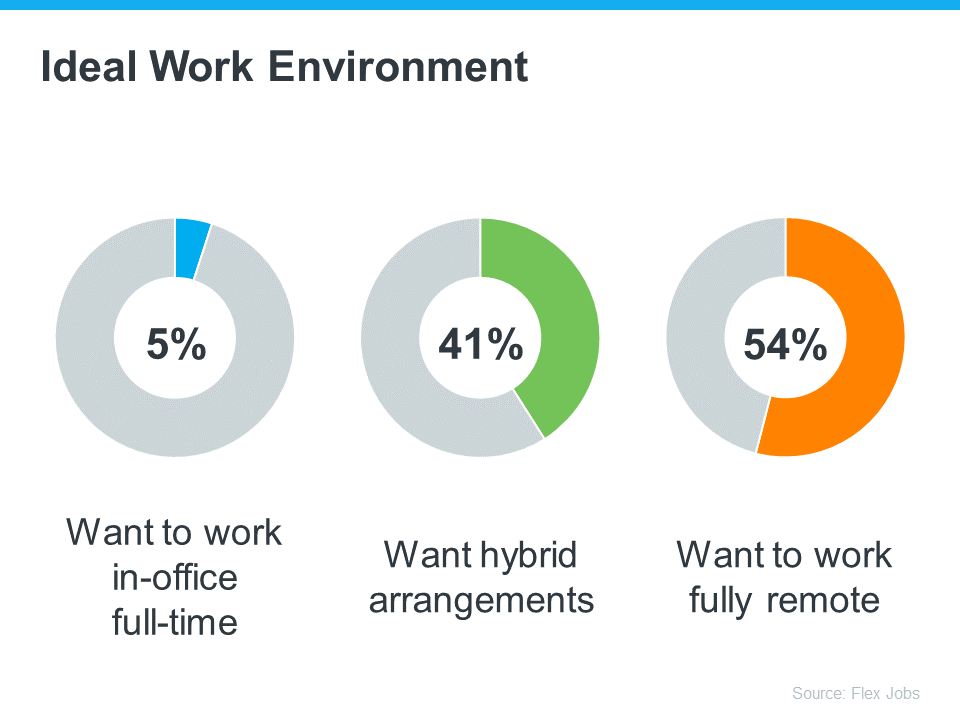 This trend is good news if you're looking to buy a home because a remote or hybrid work setup can help you overcome some of today's affordability and housing inventory challenges.
More Work Flexibility Equals More Home Options
Remote or hybrid work opens up a world of opportunities. That's because it allows you to broaden your search for your next home since you're no longer limited to living close to your workplace. With the freedom to work from anywhere, you can explore more affordable areas that may be located farther away from bustling city centers or your office. This flexibility can be a game changer while higher mortgage rates are making it difficult for some homebuyers to afford a home.
An article from the New York Times (NYT) highlights how remote work can greatly assist you in overcoming that challenge:
". . . take advantage of the opportunity remote work has presented to move to more affordable communities (either farther out in the suburbs, or in another part of the country)."
And, since the supply of homes for sale is still so low, another key challenge for you today may be finding something with all of the features you want and need. Because remote work allows you to broaden your search radius to include additional areas, you may actually have less trouble finding a home with the features you want the most because you'll have a bigger pool of options to pick from.
Working remotely gives you the flexibility to find an affordable home with the features you want. In other words, you have a better chance of getting what you need without blowing your budget.
Bottom Line
Working remotely not only gives you more flexibility in your job but also presents a great chance to broaden your search for a home. Since you're not limited to a specific location, you have the opportunity to explore more options. Let's get in touch to discuss how this can expand your choices and help you find the perfect home.
SUGGESTED NEXT STEPS FOR YOU TO MAKE SURE YOU HAVE THE INFORMATION YOU NEED TO MAKE THE RIGHT DECISION
It's also important to remember that every local market is different. That's why it's essential to lean on an expert for the latest information on the market in your area if you're planning to make a move. I would like to become that real estate expert upon whom you can lean.
Do I think that now is a good time to buy that first house or to sell and make that move up buy?  Again, absolutely yes.
To get a quick update of what is new in real estate, click here to check out our new videos.
Interested in what recent clients think of my service? Click here to read what they say.
Interested to know what your house is worth? Click here to get the most extensive and accurate estimate of home value that is available on the Internet. No cost or obligation of course.
No doubt, the housing market is shifting, and it can be a confusing place right now. I suggest that we connect so that I can help you make confident and informed decisions about what's happening. Minimize the fear or uncertainty that could change your plans. If you're unsure about how to make sense of what's going on in today's housing market, text or call me at 484-574-4088 or go to my web site, (johnherreid.com) and lets set up a time to meet, either on line or in person. I have the software so that we can meet virtually and make the best use of your time.
If you're looking to make that move up buy this year, I believe now is a good time to do it. The best way to ensure you're up to date on the latest market insights is to partner with a trusted real estate advisor. Let's connect. I would like to interview for the job of becoming your trusted real estate advisor.
One of the biggest benefits of owning a home, regardless of your income level, is that it provides financial stability and an avenue to build wealth. By selling your house and leveraging your equity, it can be easier to pay for your next home. Let's connect to find out how much equity you have in your current home and how you can use it to fuel your next purchase.
There are still clear opportunities for sellers this spring. If you're wondering if it's the right time to make a move, let's connect today.
There are plenty of buyers out there right now trying to find a home that fits their needs. That's because the job market is strong, and many people have the stable income needed to seriously consider homeownership. To put your house on the market and get in on the action, let's connect
There will be very unsettling headlines around the housing market this year. Most will come from inappropriate comparisons to the 'unicorn' years. Let's connect so you have an expert on your side to help you keep everything in proper perspective.