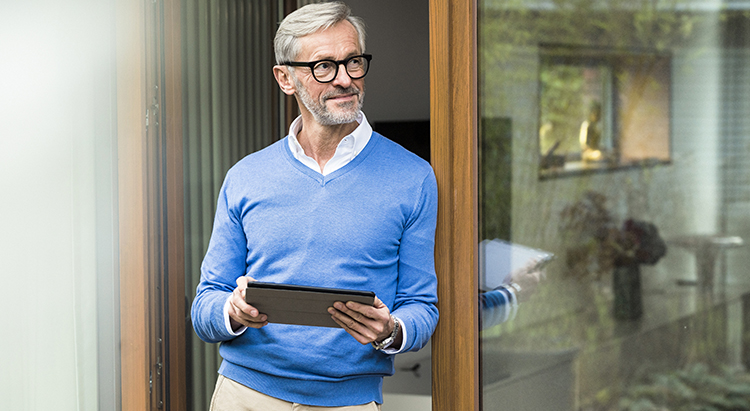 Media, PA Area: Low Inventory and Strong Demand Keep Home Prices Up
The spring housing market has been surprisingly active this year. Even with affordability challenges and a limited number of homes for sale, buyer demand is strong, and getting stronger.
One way we know there are interested buyers right now is because showing traffic is up. Data from the latest ShowingTime Showing Index, which is a measure of buyers actively touring homes, makes it clear more people are out looking at homes than there were prior to the pandemic (see graph below):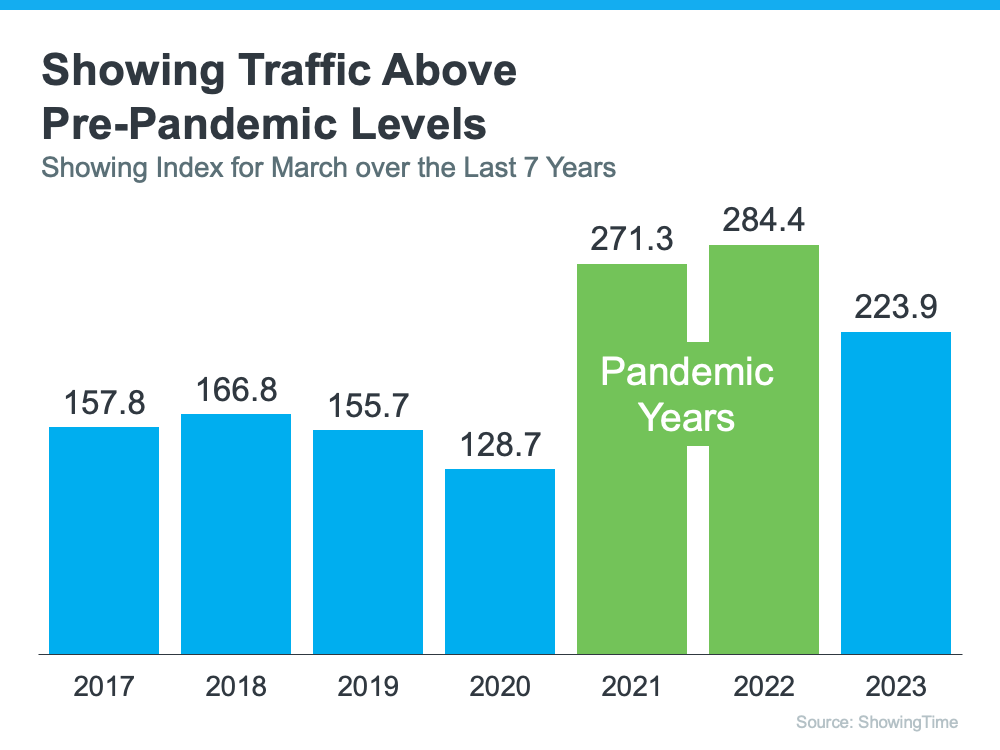 And though there's less traffic than the buyer frenzy of the past couple of years, we're not far off that pace. There are a lot of interested buyers checking out available homes right now.
But why are buyers so active at a time when mortgage rates are higher than they were just last year?
THE JOB MARKET IS GROWING AT A STRONGER-THAN-EXPECTED PACE
With inflation still high, the Federal Reserve (the Fed) repeatedly hiking the Federal Funds Rate, and a lot of chatter in the media about a recession, it might surprise you just how strong today's job market is. What might be even more surprising is the fact that it appears to be getting stronger (see graph below):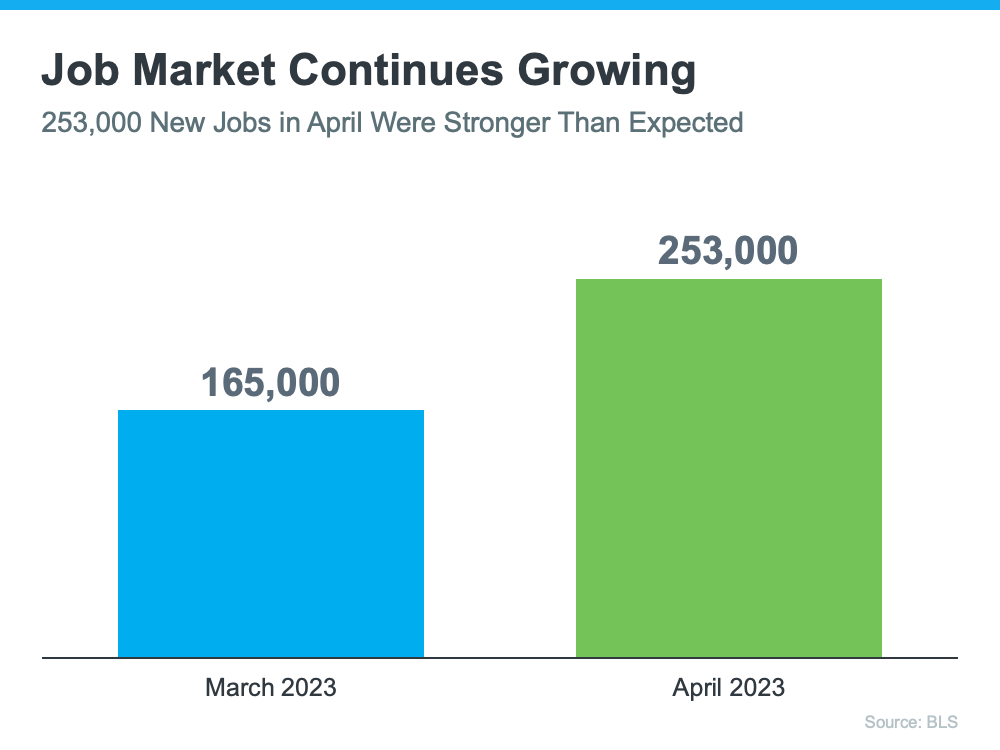 Each month, the Bureau of Labor Statistics (BLS) reports how many new jobs were added to the U.S. job market. The graph above shows 88,000 more jobs were created in April than in March. In fact, the April numbers beat expert projections. That's a solid indicator the job market is growing.
UNEMPLOYMENT IS AT A NEAR ALL-TIME LOW
Ever since the Fed began fighting inflation, many people expected the low unemployment rate we've seen over the past couple of years to rise – but that hasn't happened.
In fact, what has happened is the unemployment rate has dropped to 3.4% – a 50-year low (see graph below):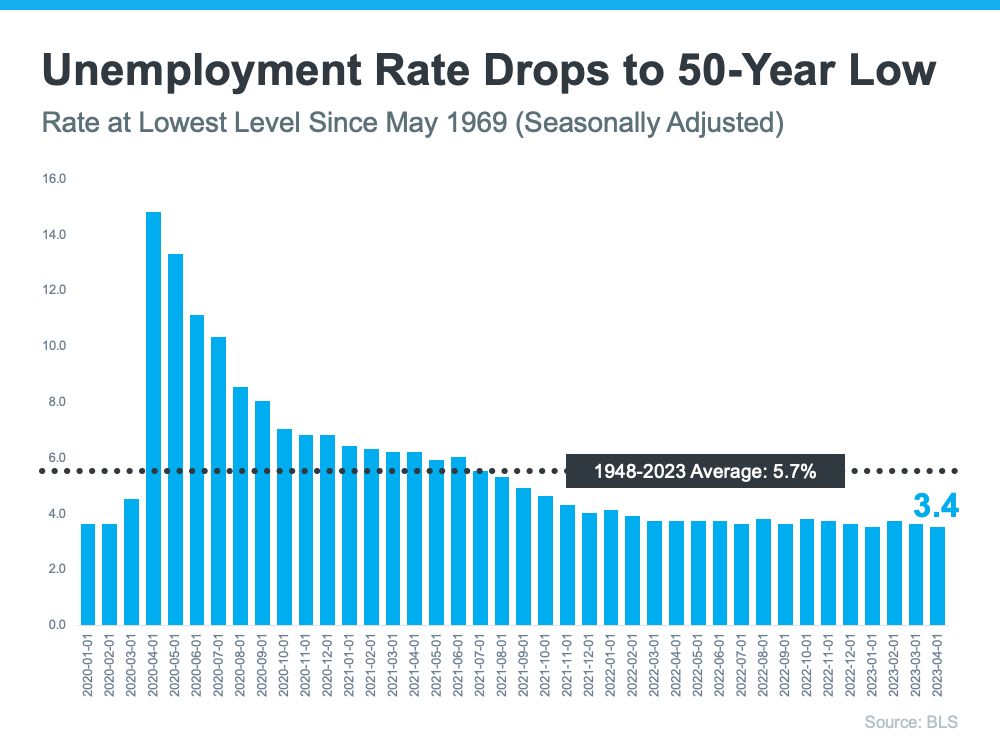 With so many people steadily employed and financially stable right now, they're still able to seriously consider buying a home.
WHAT DOES THIS MEAN FOR SELLERS AND BUYERS IN WEST CHESTER
If you're thinking about selling your house this year, a market with active buyers is music to your ears. That's because there'll be increased interest in your home when you put it on the market, especially at a time when the number of homes for sale is so low.
For more insight, please check out the below chart.
DELCO, ROSE TREE MEDIA SCHOOL DISTRICT, MEDIAN PRICE SINGLE FAMILY
Month
Sale Price
Sale Price
Sale Price
2021
2022
2023
Jan
$500,000
$612,450
$1,200,000
Feb
$419,900
$694,500
$950,000
Mar
$579,000
$695,750
$540,000
Apr
$516,250
$505,000
$648,600
May
$528,000
$706,000
Jun
$615,000
$664,250
Jul
$660,000
$897,500
Aug
$587,506
$730,000
Sep
$584,300
$677,000
Oct
$635,000
$530,000
Nov
$580,000
$690,000
Dec
$534,000
$626,500
Annual Average
$561,580
$669,079
Change
19.1%
Prices are still holding up in our area. In 2022, prices were up, year over year, in 10 of the 12 months. That also extended into 3 of the first four months of 2023.  One word of caution, however. January and February sales had a unusually large number of higher priced sales. That will not be typical for the rest of the year.
But even given that,  mitigating against a steep decline are two facts. We have only 4 months of inventory and median days on market to get an acceptable offer are only 5. Those are both indicators of strong demand for the houses that are on the market.
It is true that sales are down A LOT, so far in 2023. Down by 37% in the first four months of 2023.  However, does this also mean that we are in for a big decline in prices? I am thinking no, but I will keep an eye on this and continue to report on the trends that I see.
To get started, your best resource is an experienced real estate agent. They can help you price your house appropriately, navigate the offers you'll receive, negotiate effectively, and minimize your stress and hassle.
SUGGESTED NEXT STEPS FOR YOU TO MAKE SURE YOU HAVE THE INFORMATION YOU NEED TO MAKE THE RIGHT DECISION
It's also important to remember that every local market is different. That's why it's essential to lean on an expert for the latest information on the market in your area if you're planning to make a move.
Do I think that now is a good time to buy that first house or to sell and make that move up buy?  Again, absolutely yes.
To get a quick update of what is new in real estate, click here to check out our new videos.
Interested in what recent clients think of my service? Click here to read what they say.
Interested to know what your house is worth? Click here to get the most extensive and accurate estimate of home value that is available on the Internet. No cost or obligation of course.
No doubt, the housing market is shifting, and it can be a confusing place right now. I suggest that we connect so that I can help you make confident and informed decisions about what's happening. Minimize the fear or uncertainty that could change your plans. If you're unsure about how to make sense of what's going on in today's housing market, text or call me at 484-574-4088 or go to my web site, (johnherreid.com) and lets set up a time to meet, either on line or in person. I have the software so that we can meet virtually and make the best use of your time.
If you're looking to make that move up buy this year, I believe now is a good time to do it. The best way to ensure you're up to date on the latest market insights is to partner with a trusted real estate advisor. Let's connect. I would like to interview for the job of becoming your trusted real estate advisor.
One of the biggest benefits of owning a home, regardless of your income level, is that it provides financial stability and an avenue to build wealth. By selling your house and leveraging your equity, it can be easier to pay for your next home.

 

Let's connect

 to find out how much equity you have in your current home and how you can use it to fuel your next purchase.
There are still clear opportunities for sellers this spring. If you're wondering if it's the right time to make a move, let's connect today.
There are plenty of buyers out there right now trying to find a home that fits their needs. That's because the job market is strong, and many people have the stable income needed to seriously consider homeownership. To put your house on the market and get in on the action, let's connect.