CHESTER COUNTY, Wondering What's Going on with Home Prices?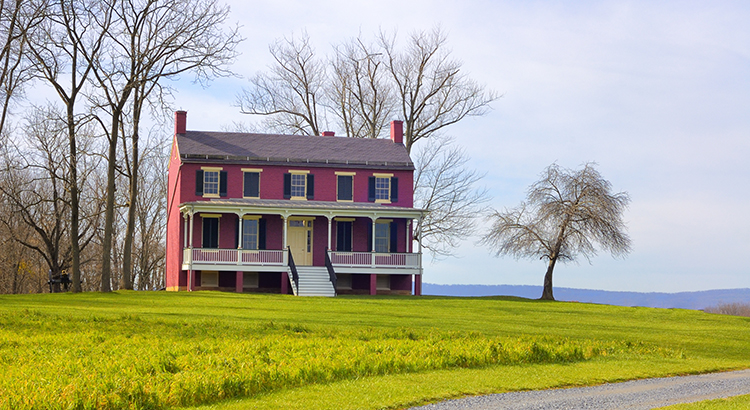 CONCLUSIONS
Is now a good time to buy your first home, Yes. Indications are that home prices will continue to increase, even  with the recent increases in mortgage interest rates.
If you have been in your home for a few years and have built up equity, is now a good time to sell and make that move up buy, Yes,  for the same reasons as above.
If mortgage rates go up, you are protected for the life of your mortgage.
If mortgage rates go down, many lenders are offering free refi's which will protect you on the downside.
People who want to sell will be able to sell for a price they will like and in a reasonable period of time.
People who want to buy will still be able to find a house they will like.
DISCUSSION
The recent changes in home prices are top of mind for many as the housing market begins gearing up for spring. It can be hard to navigate misleading headlines and confusing data, so here's what you should know about today's home prices.
Local price trends still vary by market. But looking at national data, Nataliya Polkovnichenko, Ph.D., Supervisory Economist at the Federal Housing Finance Agency (FHFA), explains:
"U.S. house prices were largely unchanged in the last four months and remained near the peak levels reached over the summer of 2022. While higher mortgage rates have suppressed demand, low inventories of homes for sale have helped maintain relatively flat house prices."
Month-over-month home price changes can be seen in the chart below. The data also shows that price depreciation peaked around August. Since then, any depreciation has been even milder. In other words, today's home prices aren't in a freefall.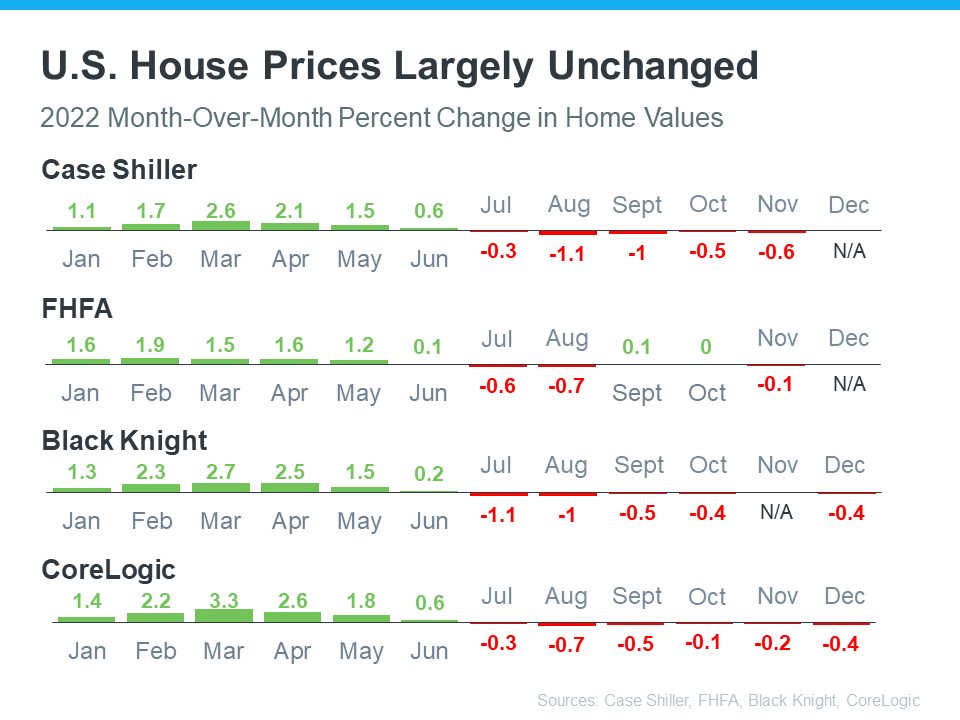 Below is a monthly  summary of those same time periods for West Chester.
The national figures were almost uniformly negative for the last half of 2022.  Not so for West Chester which was  positive for 4 of the last six months. And the trend continued into 2023.
| | | | | | | | | | | | | |
| --- | --- | --- | --- | --- | --- | --- | --- | --- | --- | --- | --- | --- |
| Jan | Feb | Mar | April | May | June | July | August | Sep | Oct | Nov | Dec | Jan, 23 |
| 4.2% | -0.6% | 17.6% | 29.2% | 13.0% | 32.0% | -2.0% | 3.9% | 14.9% | 6.9% | -10.4% | 12.3% | 10.6% |
Several  other variables  are important when assessing's  the health of the real estate market.  Three of the most important are Number of Sales, Days on Market (how much time does it take to get a satisfactory agreement of sale), and Average Inventory (how many houses do we have for sale?)
Number of Sales are down a lot in 2022. From 845 in 2021 to 665 in 2022, a 22% decline.
Days on Market have been around a week for the last 2 years. That meant that if your house is put on the market at a reasonable price and well marketed you could reasonably expect to have an Agreement of Sale in about a week.  In December and January that got up to 12 and 14 days; February was back to 8. That means that houses are still selling rapidly.
Months of Inventory. History tells us that to have a balanced market with about the same number of buyers and sellers, we need 6 months of inventory. Recently that has been very low, about 2-3 months. In December, January and February our inventory was still at 3 and 4 months.  That tells us that there are still more buyers than sellers which means that the demand is higher  than the supply. What happens when we have high demand and low supply,  prices go up.
Stated differently, months of inventory are basically unchanged from the last two years. That means that if you want to buy, either first time or move up, the inventory is there for you to do that.
What Does This Mean for You?
If you currently own your house, you may be concerned about even the smallest decline in prices. But keep in mind how much home values grew over the last few years. Compared to that growth, any declines we're seeing nationally are likely to be minimal. Selma Hepp, Chief Economist at CoreLogic, shares:
". . . while prices continued to fall from November, the rate of decline was lower than that seen in the summer and still adds up to only a 3% cumulative drop in prices since last spring's peak."
Because months of inventory and days on market are relatively unchanged from the last 2-3 years, my opinion is that this is still a good time to either buy or sell.  A little different, yes but still a good time.
That is what we have seen and what I believe we will continue to see.
It's also important to remember that every local market is different. That's why it's essential to lean on an expert for the latest information on the home prices in your area if you're planning to make a move this spring.
RECOMMENDATIONS FOR YOU
To get a quick update of what is new in real estate, click here to check out our new videos.
Interested in what recent clients think of my service? Click here to read what they say. 
Interested to know what your house is worth? Click here to get the most extensive and accurate estimate of home value that is available on the Internet. No cost or obligation of course.
No doubt, the housing market is shifting, and it can be a confusing place right now. I suggest that we connect so that I can help you make confident and informed decisions about what's happening. Minimize the fear or uncertainty that could change your plans. If you're unsure about how to make sense of what's going on in today's housing market, text or call me at 484-574-4088 or go to my web site, (johnherreid.com) and lets set up a time to meet, either on line or in person. I have the software so that we can meet virtually and make the best use of your time.
If you're looking to make that move up buy this year, I believe now is a good time to do it. The best way to ensure you're up to date on the latest market insights is to partner with a trusted real estate advisor. Let's connect. I would like to interview for the job of becoming your trusted real estate advisor.
One of the biggest benefits of owning a home, regardless of your income level, is that it provides financial stability and an avenue to build wealth. Let's connect to find out how much equity you have in your current home and how you can use it to fuel your next purchase.