CHESTER COUNTY, ARE Lower Home Prices COMING?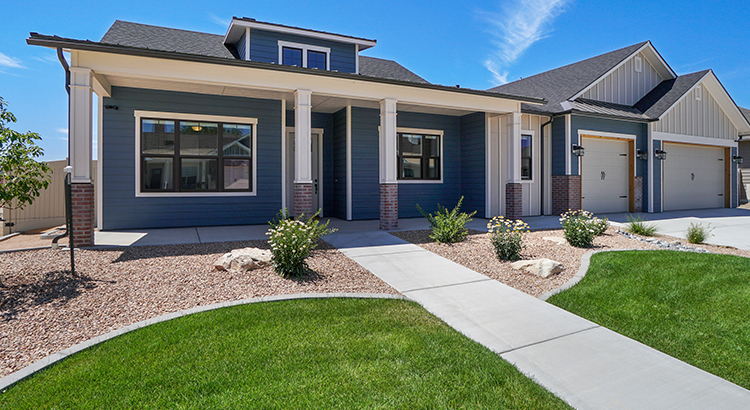 As the housing market continues to change, you may be wondering where it'll go from here. One factor you're probably thinking about is home prices, which have come down a bit since they peaked last June. And you've likely heard something in the news or on social media about a price crash on the horizon. As a result, you may be holding off on buying a home until prices drop significantly. But that's not the best strategy.
A recent survey from Zonda shows 53% of millennials are still renting right now because they're waiting for home prices to come down. But here's the thing: the most recent data shows that home prices appear to have bottomed out and are now on the rise again. Selma Hepp, Chief Economist at CoreLogic, reports:
"U.S. home prices rose by 0.8% in February . . . indicating that prices in most markets have already bottomed out."
And the latest data from Black Knight shows the same shift. The graph below compares home price trends in November to those in February: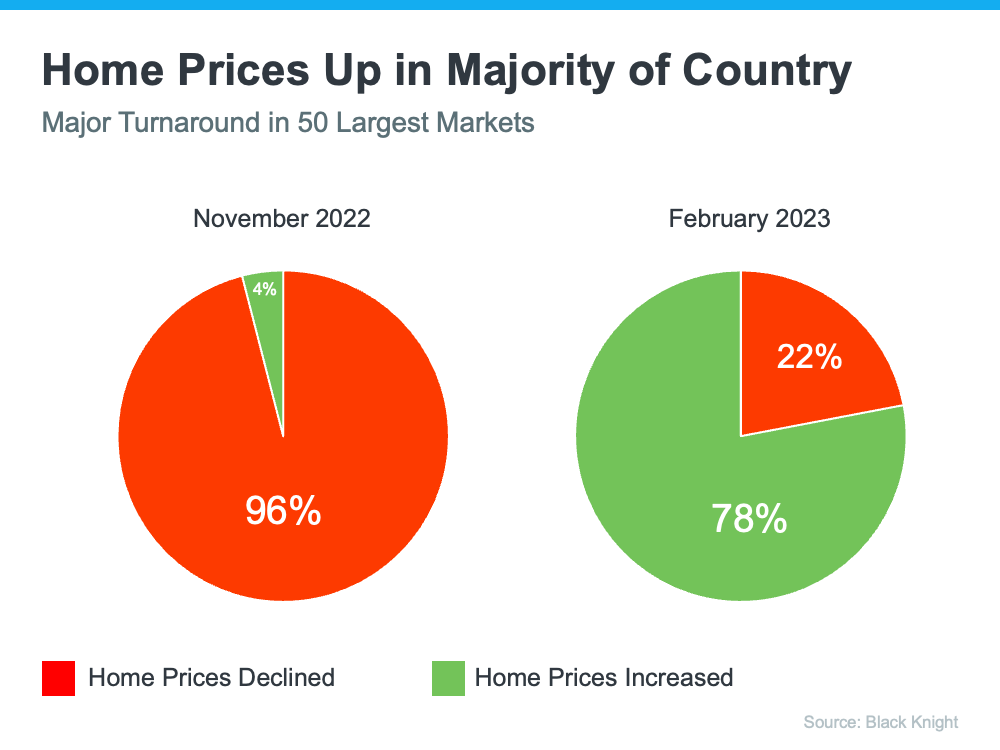 So, should you keep waiting to buy a home until prices come down? If you factor in what the experts are saying, you probably shouldn't. The data shows prices are increasing in much of the country, not decreasing. And the latest data from the Home Price Expectation Survey indicates that experts project home prices will rise steadily and return to more normal levels of appreciation after 2023. The best way to understand what home values are doing in your area is to work with a local real estate professional who can give you the latest insights and expert advice.
ARE PRICES GOING TO GO UP OR DOWN IN CHESTER COUNTY?
This is really one of the most central questions for buyers and sellers.
First time buyers want to know if prices are going to go lower right after they buy. If they are it would make sense to wait.
Move up buyers with a house to sell need to know if they can get a fair price for their present house and if their next house is going to be worth more or less in the next months and years.
My recommendation to both groups is to BUY NOW.  Here is why.
The below chart shows,  month by month,  year over year median sales price in Chesco.
The year over year median sales price was up in 11 of 12 months in 2022.  Up a very healthy 9.2% for the year. The trend continues in 2 of 4 months in 2023. YTD, through April 23 is up 1.2% in 2023
CHESCO, MEDIAN SALES PRICE, SINGLE FAMILY, DETACHED,2021 THRU 2023 YTD
Month
Sale Price, Median 2021
Sale Price, Median 2022
Sale Price, Median 2023
Jan
$452,500
$484,900
$527,500
Feb
$441,700
$510,000
$507,500
Mar
$495,000
$525,000
$545,000
Apr
$481,250
$540,000
$505,000
May
$512,021
$531,055
Jun
$515,000
$600,000
Jul
$531,000
$575,000
Aug
$498,000
$550,000
Sep
$479,900
$540,000
Oct
$494,075
$549,500
Nov
$499,000
$545,000
Dec
$508,961
$500,000
Annual
$492,367
$537,538
Annual Price Difference
$45,171
Annual %
9.2%
Jan-Apr
$514,975
$521,250
Jan-Apr Price Difference
$6,275
% Difference
1.2%
I expect this to continue into the forseeable future. Why?  Because we still have very low inventory of houses for sale. To have a balanced market with about the same number of buyers and sellers we need 6 months of inventory. Right now we have only 3 months. That says that we have more buyers than sellers. And what always happens when there is more demand than supply?  Prices go up. Stated differently, we are still in a very strong Sellers' Market.
I expect prices to continue to increase in Chester county. Stated differently, I see little chance that we will have any sigificant price decline in the forseeable future.
Bottom Line
If you're waiting to buy a home until prices come down, you may want to reconsider. Let's connect to make sure you understand what's happening in our local housing market.
SUGGESTED NEXT STEPS FOR YOU TO MAKE SURE YOU HAVE THE INFORMATION YOU NEED TO MAKE THE RIGHT DECISION
It's also important to remember that every local market is different. That's why it's essential to lean on an expert for the latest information on the market in your area if you're planning to make a move this spring.
Do I think that now is a good time to sell and make that move up buy?  Again,  absolutely yes.
To get a quick update of what is new in real estate, click here to check out our new videos.
Interested in what recent clients think of my service? Click here to read what they say.
Interested to know what your house is worth? Click here to get the most extensive and accurate estimate of home value that is available on the Internet. No cost or obligation of course.
No doubt, the housing market is shifting, and it can be a confusing place right now. I suggest that we connect so that I can help you make confident and informed decisions about what's happening. Minimize the fear or uncertainty that could change your plans. If you're unsure about how to make sense of what's going on in today's housing market, text or call me at 484-574-4088 or go to my web site, (johnherreid.com) and lets set up a time to meet, either on line or in person. I have the software so that we can meet virtually and make the best use of your time.
If you're looking to make that move up buy this year, I believe now is a good time to do it. The best way to ensure you're up to date on the latest market insights is to partner with a trusted real estate advisor. Let's connect. I would like to interview for the job of becoming your trusted real estate advisor.
One of the biggest benefits of owning a home, regardless of your income level, is that it provides financial stability and an avenue to build wealth. By selling your house and leveraging your equity, it can be easier to pay for your next home. Let's connect to find out how much equity you have in your current home and how you can use it to fuel your next purchase.
There are still clear opportunities for sellers this spring. If you're wondering if it's the right time to make a move, let's connect today.
And if you would like to listen to our 12 minute podcast on this topic, please click on https://bit.ly/Are_Lower_Home_Prices_Coming