EX[ERT OPINIONS About the 2023 Housing Market IN CHESTER COUNTY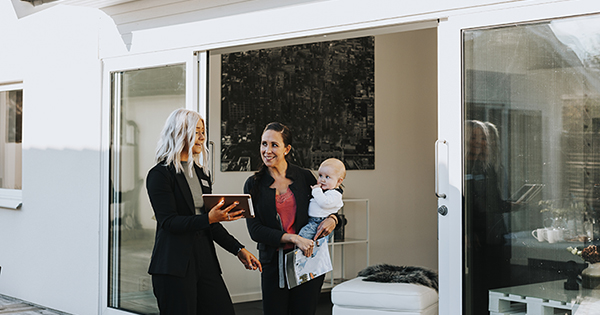 If you're thinking about
buying or selling
 a home soon, you probably want to know what you can expect from the 
housing market
 this year. In 2022, the market underwent a major shift as economic uncertainty and higher mortgage rates reduced buyer demand, slowed the pace of home sales, and moderated home prices. But what about 
2023
?
An article from HousingWire offers this perspective:
"The red-hot housing market of the past 2 ½ years was characterized by sub-three percent mortgage rates, fast-paced bidding wars and record-low inventory. But more recently, market conditions have done an about-face. . . . now is the opportunity for everyone to become re-educated about what a 'typical' housing market looks like."
This year, experts agree we may see the return of greater stability and predictability in the housing market if inflation continues to ease and mortgage rates stabilize. Here's what they have to say.
The 2023 forecast from the National Association of Realtors (NAR) says:
"While 2022 may be remembered as a year of housing volatility, 2023 likely will become a year of long-lost normalcy returning to the market, . . . mortgage rates are expected to stabilize while home sales and prices moderate after recent highs, . . ."
Danielle Hale, Chief Economist at realtor.com, adds:
". . . buyers will not face the extreme competition that was commonplace over the past few years."
Lawrence Yun, Chief Economist at NAR, explains home prices will vary by local area, but will net neutral nationwide as the market continues to adjust:
"After a big boom over the past two years, there will essentially be no change nationally . . . Half of the country may experience small price gains, while the other half may see slight price declines."
Mark Fleming, Chief Economist at First American, says:
"The housing market, once adjusted to the new normal of higher mortgage rates, will benefit from continued strong demographic-driven demand relative to an overall, long-run shortage of supply." 
WHAT DOES THIS SAY ABOUT WHAT WILL PROBABLY HAPPEN IN CHESTER COUNTY?
Home Prices, 2021 and 2022. To make a logical estimate about the future, first we need to understand the recent past. Below is a table that shows median single family home prices in Chester county, by month for 2021 and 2022.
CHESTER COUNTY, MEDIAN SALE PRICE, SINGLE FAMILY HOMES, 2021 AND 2022
Month
Price, Median 2021
Price, Median 2022
Difference
%
Jan
$452,500
$481,948
$29,448
6.5%
Feb
$441,700
$510,000
$68,300
15.5%
Mar
$495,000
$526,821
$31,821
6.4%
Apr
$481,250
$545,000
$63,750
13.2%
May
$512,021
$531,055
$19,034
3.7%
Jun
$515,000
$600,000
$85,000
16.5%
Jul
$531,000
$575,000
$44,000
8.3%
Aug
$498,000
$550,000
$52,000
10.4%
Sep
$479,900
$537,500
$57,600
12.0%
Oct
$494,075
$549,500
$55,425
11.2%
Nov
$499,000
$545,000
$46,000
9.2%
Dec
$508,961
$500,000
($8,961)
-1.8%
Totals
$492,367
$537,652
$45,285
9.2%
Every month of 2022 was higher than the same month in 2021, except for December. That tells us that prices are still stable to increasing in Chester County.
So much for history, what about the future?  Two potent predictors of future prices are Months of Inventory and Days on Market.
Below is a chart of Months of Inventory for Single Family Homes in Chester County.
CHESTER COUNTY, MONTHS OF INVENTORY, SINGLE FAMILY HOMES, 2021 AND 2022
Month
Months Of Inventory 2021
Months Of Inventory 2022
Jan
5
4
Feb
6
6
Mar
5
4
Apr
5
4
May
5
4
Jun
3
3
Jul
4
3
Aug
3
3
Sep
4
3
Oct
4
4
Nov
4
3
Dec
3
2
History tells us that 6 months of inventory are needed for a balanced market with about the same numbers of buyers and sellers.  Under six months says that there are more buyers than sellers, or there is high demand and low supply. When that happen prices go up.
Another good indicator of demand vs supply is how many days are required to get an agreement of sale on houses that are listed for sale.
CHESTER COUNTY, DAYS ON MARKET, SINGLE FAMILY HOMES, 2021 AND 2022
Month
CDOM, Median 2021
CDOM, Median 2022
Jan
8
7
Feb
9
8
Mar
7
6
Apr
6
5
May
5
6
Jun
6
6
Jul
6
6
Aug
6
7
Sep
7
7
Oct
6
7
Nov
8
7
Dec
7
13
In a "Normal" balanced  market, it usually takes about 30 days on average to obtain an acceptable agreement of sale. For the last two years, 6-8 days has been common which is extremely bullish for prices.
My judgment is that even with the dramatic rise in interest rates (from 3 to 6+), prices will be stable to modestly increasing  over the next year.
WHAT SHOULD BE NEXT FOR YOU?
If you have questions about home prices or how much equity you have in your current home, let's connect so you have an expert's advice.
To get a quick update of what is new in real estate, click here to check out our new videos.
Interested in what recent clients think of my service? Click here to read what they say. 
Interested to know what your house is worth? Click here to get the most extensive and accurate estimate of home value that is available on the Internet. No cost or obligation of course.
No doubt, the housing market is shifting, and it can be a confusing place right now. I suggest that we connect so that I can help you make confident and informed decisions about what's happening. Minimize the fear or uncertainty that could change your plans. If you're unsure about how to make sense of what's going on in today's housing market, text or call me at 484-574-4088 or go to my web site, (johnherreid.com) and lets set up a time to meet, either on line or in person. I have the software so that we can meet virtually and make the best use of your time.
Bottom Line
If you're looking to buy or sell a home this year, the best way to ensure you're up to date on the latest market insights is to partner with a trusted real estate advisor. Let's connect. I would like to interview for the job of becoming your trusted real estate advisor.