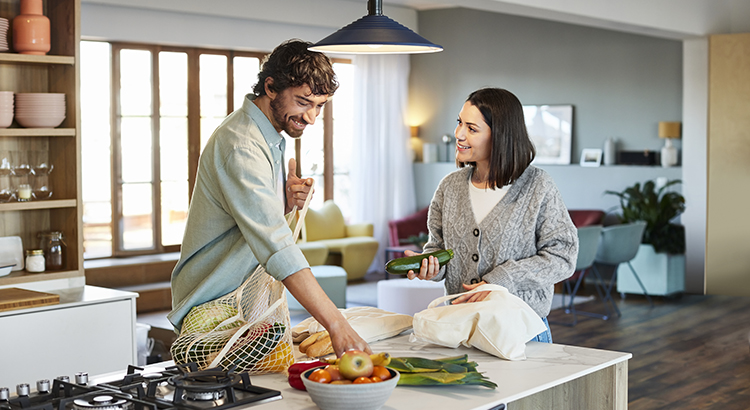 One of the biggest challenges in the housing market right now is how few homes there are for sale compared to the number of people who want to buy them. To help emphasize just how limited housing inventory still is, let's take a look at the latest information on active listings, or homes for sale in a given month, as it compares to more normal levels.
According to a recent report from Realtor.com:
 "On average, active inventory in June was 50.6% below pre-pandemic 2017–2019 levels."
The graph below helps illustrate this point. It uses historical data to provide a more concrete look at how much the numbers are still lagging behind the level of inventory typical of a more normal market (see graph below):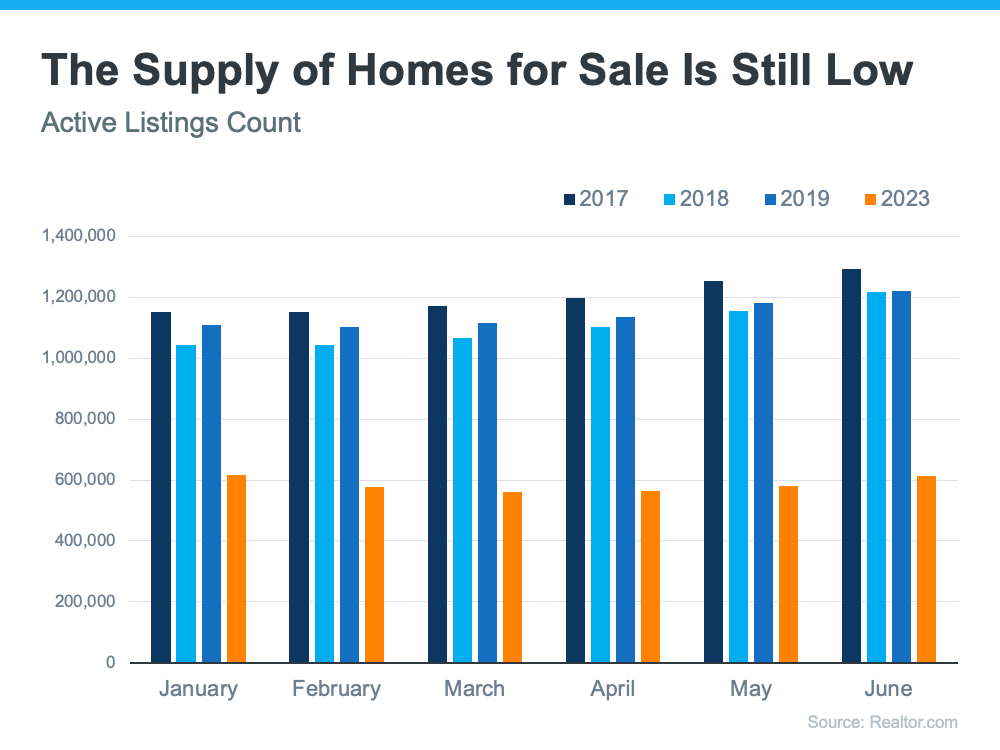 It's worth noting that 2020-2022 are not included in this graph. That's because they were truly abnormal years for the housing market. To make the comparison fair, those have been omitted so they don't distort the data.
When you compare the orange bars for 2023 with the last normal years for the housing market (2017-2019), you can see the count of active listings is still far below the norm.
What Does This Mean for You?
If you're thinking about selling your house, that low inventory is why this is a great time to do so. Buyers have fewer choices now than they did in more normal years, and that's continuing to impact some key statistics in the housing market. For example, sellers will be happy to see the following data from the latest Confidence Index from the National Association of Realtors (NAR):
The percent of homes that sold in less than a month ticked up slightly to 74%.
However, in Chester county, our median days on market is only about 6 to 8; and it has been this way for the last two years plus.
That low figure for median days on market means that homes are still selling super fast when priced right and listed with a competent realtor.
In 29 of the last 30 months, the average selling price has been at or above the list price.
All of that adds up to a HOT MARKET.
HOW TO MAKE SURE YOU TAKE ADVANTAGE OF THIS HYPER HOT MARKET
It's also important to remember that every local market is different. That's why it's essential to lean on an expert for the latest information on the market in your area if you're planning to make a move. I would like to become that real estate expert upon whom you can lean.
Do I think that now is a good time to buy that first house or to sell and make that move up buy?  Again, absolutely yes.
To get a quick update of what is new in real estate, click here to check out our new videos.
Interested in what recent clients think of my service? Click here to read what they say.
Interested to know what your house is worth? Click here to get the most extensive and accurate estimate of home value that is available on the Internet. No cost or obligation of course.
No doubt, the housing market is shifting, and it can be a confusing place right now. I suggest that we connect so that I can help you make confident and informed decisions about what's happening. Minimize the fear or uncertainty that could change your plans. If you're unsure about how to make sense of what's going on in today's housing market, text or call me at 484-574-4088 or go to my web site, (johnherreid.com) and lets set up a time to meet, either on line or in person. I have the software so that we can meet virtually and make the best use of your time.
If you're looking to make that move up buy this year, I believe now is a good time to do it. The best way to ensure you're up to date on the latest market insights is to partner with a trusted real estate advisor. Let's connect. I would like to interview for the job of becoming your trusted real estate advisor.
One of the biggest benefits of owning a home, regardless of your income level, is that it provides financial stability and an avenue to build wealth. By selling your house and leveraging your equity, it can be easier to pay for your next home. Let's connect to find out how much equity you have in your current home and how you can use it to fuel your next purchase.
There are still clear opportunities for sellers this spring. If you're wondering if it's the right time to make a move, let's connect today.
There are plenty of buyers out there right now trying to find a home that fits their needs. That's because the job market is strong, and many people have the stable income needed to seriously consider homeownership. To put your house on the market and get in on the action, let's connect
There will be very unsettling headlines around the housing market this year. Most will come from inappropriate comparisons to the 'unicorn' years. Let's connect so you have an expert on your side to help you keep everything in proper perspective.