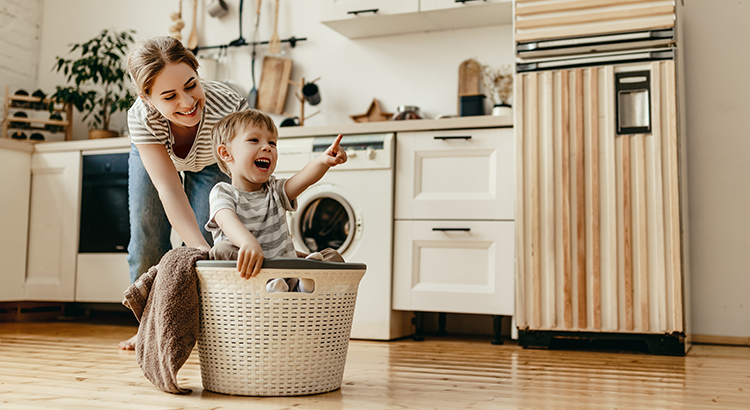 If you're following the news today, you may feel a bit unsure about what's happening with home prices and fear whether or not the worst is yet to come. That's because today's headlines are painting an unnecessarily negative picture. Contrary to those headlines, home prices aren't in a freefall. The latest data tells a very different and much more positive story. Local home price trends still vary by market, but here's what the national data tells us.  More great news about local home prices later, but first here is a look at the national scene.
If we take a year-over-year view, home prices stayed positive – they just appreciated more slowly than they did at the peak of the pandemic. To get a more detailed picture of some of the trends in the market, we need to look at monthly data.
The monthly graphs below use recent reports from three sources to show that the worst home price declines are already behind us, and prices are on their way back up nationally.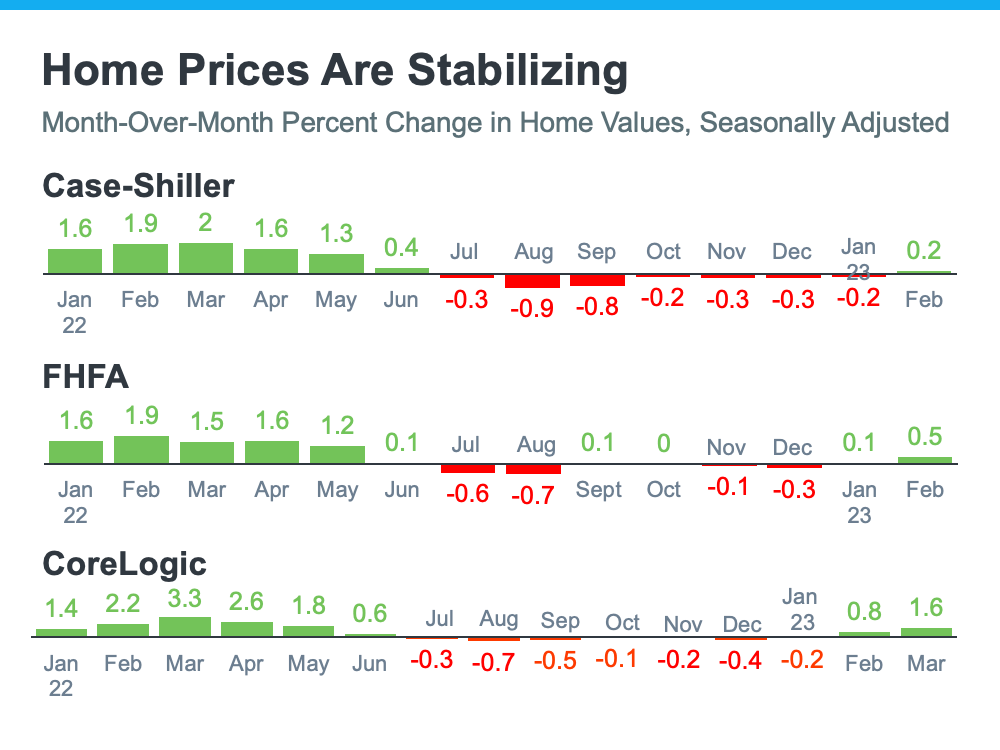 The story this more detailed monthly view tells us is that the last year has been a tale of two halves in the housing market. In the first half of 2022, home prices were climbing, and they peaked in June. Then, in July, home prices started to decline (shown in red in the graphs above). And by roughly August or September, the trend began to stabilize. As we look at the most recent data for the early part of 2023, these graphs also show a recent rebound in momentum with prices ticking back up. Monthly changes in home prices are gaining steam as we move into the busier spring season.
While one to two months doesn't make a trend, the fact that all three reports show prices have stabilized is an encouraging sign for the housing market. The month-over-month data conveys a clear, but early, consensus that a national shift is taking place today. In essence, home prices are starting to tick back up.
Andy Walden, Vice President of Enterprise Research at Black Knight, says this about home price trends:
"Just five months ago, prices were declining on a seasonally adjusted month-over-month basis in 92% of all major U.S. markets. Fast forward to March, and the situation has done a literal 180, with prices now rising in 92% of markets from February."
Selma Hepp, Chief Economist at CoreLogic, explains the limited supply of homes available for sale is contributing to this positive turn:
" . . . prices in many large metros appeared to have turned the corner, with the U.S. recording a second month of consecutive monthly gains. . . . The monthly rebound in home prices underscores the lack of inventory in this housing cycle." 
WHAT DOES THIS MEAN FOR WEST CHESTER, DOWNINGTOWN AND GREAT VALLEY?
Check out the below chart that shows median sales prices single family detached houses from January, 2021 through May of 2023. 
WEST CHESTER, DOWNINGTOWN, GREAT VALLEY, MEDIAN SALES PRICE, SINGLE FAMILY
Month
Sale Price
Sale Price
Difference
% Diff
Sale Price
Difference
% Diff
   2021
   2022
2023
     ($)
     ($)
      ($)
   (%)
     ($)
(      $)
   (%)
Jan
$525,000
$565,000
$40,000
7.6%
$636,500
$71,500
12.7%
Feb
$577,000
$554,000
($23,000)
-4.0%
$620,000
$66,000
11.9%
Mar
$557,188
$635,000
$77,812
14.0%
$671,500
$36,500
5.7%
Apr
$557,500
$685,600
$128,100
23.0%
$660,750
($24,850)
-3.6%
May
$591,820
$657,000
$65,180
11.0%
$723,800
$66,800
10.2%
Jun
$575,000
$687,977
$112,977
19.6%
Jul
$642,500
$675,000
$32,500
5.1%
Aug
$604,000
$647,500
$43,500
7.2%
Sep
$575,000
$637,401
$62,401
10.9%
Oct
$580,000
$605,000
$25,000
4.3%
Nov
$550,000
$599,500
$49,500
9.0%
Dec
$610,000
$590,000
($20,000)
-3.3%
Annual
$578,751
$628,248
$49,498
8.6%
Year to Date
$662,510
$43,190
Year over Year Up, 10 of 12 months in 2022
Year over Year Up, 4 of 5 months Year to Date in 2023
National year over year prices were down in almost every month during the last six months of the year. NOT SO IN OUR AREA WHERE PRICES WERE UP IN 5 OF THE LAST 6 MONTH.
ANNUAL PRICE INCREASE IN 2022 WAS 8.6%.
AND THE TREND CONTINUES IN 4 OF THE FIRST 5 MONTHS IN 2023.
Here's What This Means for You
Sellers: If you've been holding off on selling because you're worried about what was happening with home prices and how it would impact the value of your home, it may be time to jump back in and partner with an agent to list your house. You don't have to put your needs on hold any longer because the latest data shows a turn in your favor.
Buyers: If you've been waiting to buy because you didn't want to purchase something that would decrease in value, you now have the peace of mind things are looking up. Buying now lets you make your move before home prices climb more and gives you the chance to own an asset that typically grows in value over time.
I endorse these opinions from the national experts,

EVEN MORE STRONGLY FOR OUR AREA.

IF YOU ARE A FIRST TIME BUYER OR A MOVE UP BUYER, THIS IS PROBABLY THE BEST TIME WE WILL EVER SEE TO MAKE THOSE MOVES.
SUGGESTED NEXT STEPS FOR YOU TO MAKE SURE YOU HAVE THE INFORMATION YOU NEED TO MAKE THE RIGHT DECISION
It's also important to remember that every local market is different. That's why it's essential to lean on an expert for the latest information on the market in your area if you're planning to make a move.
Do I think that now is a good time to buy that first house or to sell and make that move up buy?  Again, absolutely yes.
To get a quick update of what is new in real estate, click here to check out our new videos.
Interested in what recent clients think of my service? Click here to read what they say.
Interested to know what your house is worth? Click here to get the most extensive and accurate estimate of home value that is available on the Internet. No cost or obligation of course.
No doubt, the housing market is shifting, and it can be a confusing place right now. I suggest that we connect so that I can help you make confident and informed decisions about what's happening. Minimize the fear or uncertainty that could change your plans. If you're unsure about how to make sense of what's going on in today's housing market, text or call me at 484-574-4088 or go to my web site, (johnherreid.com) and lets set up a time to meet, either on line or in person. I have the software so that we can meet virtually and make the best use of your time.
If you're looking to make that move up buy this year, I believe now is a good time to do it. The best way to ensure you're up to date on the latest market insights is to partner with a trusted real estate advisor. Let's connect. I would like to interview for the job of becoming your trusted real estate advisor.
One of the biggest benefits of owning a home, regardless of your income level, is that it provides financial stability and an avenue to build wealth. By selling your house and leveraging your equity, it can be easier to pay for your next home. Let's connect to find out how much equity you have in your current home and how you can use it to fuel your next purchase.
There are still clear opportunities for sellers this spring. If you're wondering if it's the right time to make a move, let's connect today.
There are plenty of buyers

out there right now trying to find a home that fits their needs. That's because the job market is strong, and many people have the stable income needed to seriously consider homeownership. To put your house on the market and get in on the action, let's connect.

If you would like to listen to our recent 12minute podcast on this topic, please just click the below hyperlink,

bit.ly/Chesco_Delco_Home_Prices_Beat_National_By_A_Lot