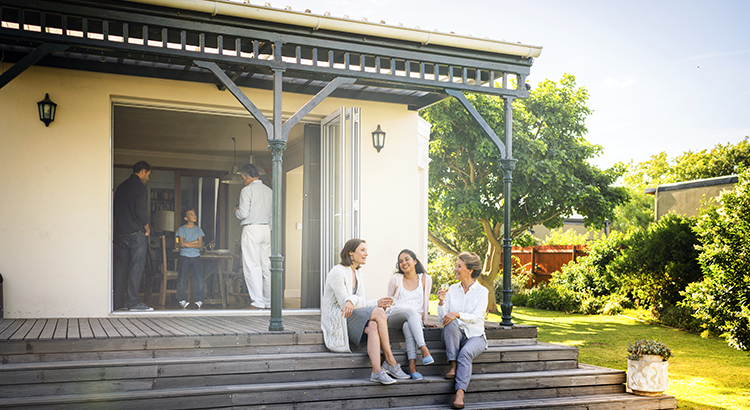 West Chester, PA: Why Buying a Home Probably Makes More Sense Than Renting Today
Wondering if you should continue renting or if you should buy a home this year? If so, consider this. Rental affordability is still a challenge and has been for years. That's because, historically, rents trend up over time. Data from the Census shows rents have been climbing pretty steadily since 1988.
And, data from the latest rental report from Realtor.com shows rents continue to grow today, even though it's at a slower pace than we saw at the height of the pandemic:
"In March 2023, the U.S. rental market experienced single-digit growth for the eighth month in a row . . . The median asking rent was $1,732, up by $15 from last month and down by $32 from the peak but is still $354 (25.7%) higher than the same time in 2019 (pre-pandemic)."
With rents much higher now than they were in more normal, pre-pandemic years, owning your home may be a better option, especially if the long-term trend of rents increasing each year continues. In contrast, homeowners with a fixed-rate mortgage can lock in a monthly mortgage payment for the duration of their loan (typically 15-30 years).
Owning a Home Could Be More Affordable if You Need More Space
The graph below uses national data on the median rental payment from Realtor.com and median mortgage payment from the National Association of Realtors (NAR) to compare the two options. As the graph shows, depending on how much space you need, it's typically more affordable to own than to rent if you need two or more bedrooms: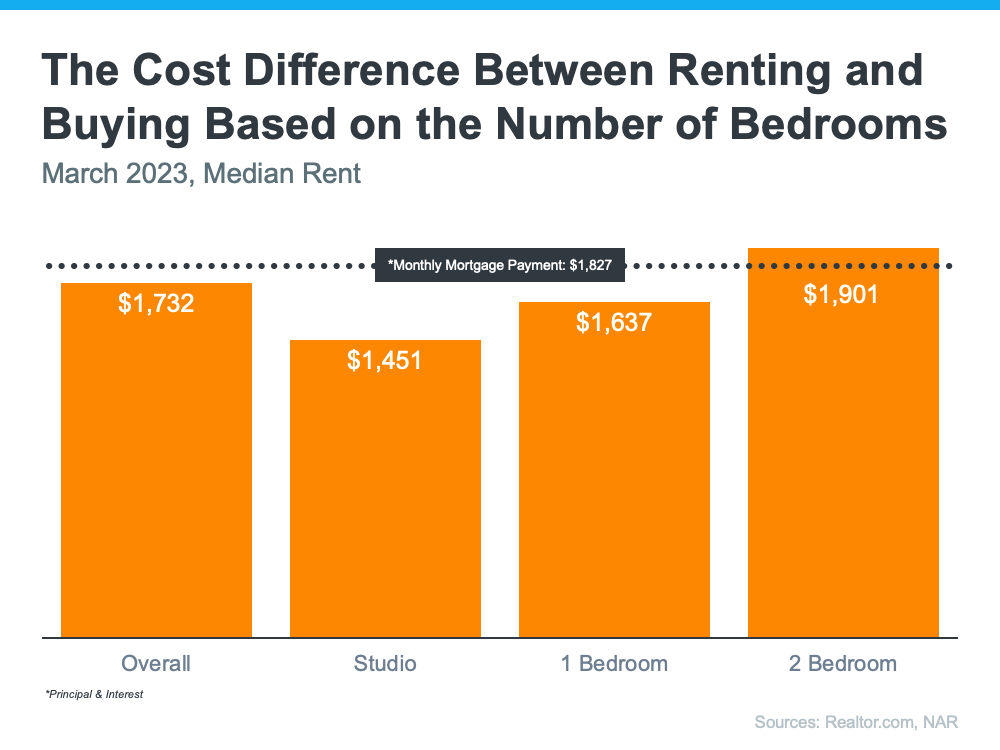 So, if you're looking to live somewhere where you have two or more bedrooms to accommodate your household, give you more breathing room to spread out your belongings, or dedicate the extra space to practice your hobbies, it might make sense to consider homeownership.
HOW DOES THIS SHAKE OUT FOR WEST CHESTER BECAUSE, LIKE POLITICS, ALL REAL ESTATE IS LOCAL . WE HAVE TO CONSIDER THAT Home ownership Allows You To Start Building Equity
Let's compare the relative costs and benefits of renting a 2 bedroom dwelling in West Chester with buying the median priced 2 bedroom detached house. Median rent in West Chester is about $2,300. Median price for a 2 bedroom detached house is about $335,000. Down payment and closing costs can be as low as $25,000. Monthly principal and interest would be $2,541. And that never changes for the life of your loan.
No contest you say. Renting saves me $241 every month. Well maybe for a year, two at the most because rents go up every year. And remember, your mortgage interest and taxes are deductions on your income tax so you may even save money even in the first year.
Here is the big BUT to  that argument. If you own you begin to build equity right away.  Assuming the long term average of 3.5% value increase per year, after 10 years, your value has increased to about $473,00; after 20 years to about $667,000 and after 30 years to about $940,000. And that doesn't even count the payoff of your mortgage.
If you rent all that time, you will just have a stack of mortgage receipts, or more likely a computer file showing that you paid.
To emphasize, in addition to shielding you from rising rents and being more affordable when you need more space, owning your home also allows you to start building your own equity, which in turn grows your net worth quickly and by a lot.
And, to repeat a bit, because it is important. As home values typically rise over time and you pay off your mortgage, you build equity. That equity can set you up for success later on because you can use it to help fuel a move to an even bigger space down the line. That's why, according to Zonda, the top reason millennial homeowners bought their home over the past year was to build their own equity instead of someone else's.
SUGGESTED NEXT STEPS FOR YOU TO MAKE SURE YOU HAVE THE INFORMATION YOU NEED TO MAKE THE RIGHT DECISION
It's also important to remember that every local market is different. That's why it's essential to lean on an expert for the latest information on the market in your area if you're planning to make a move.
Do I think that now is a good time to buy that first house or to sell and make that move up buy?  Again, absolutely yes.
To get a quick update of what is new in real estate, click here to check out our new videos.
Interested in what recent clients think of my service? Click here to read what they say.
Interested to know what your house is worth? Click here to get the most extensive and accurate estimate of home value that is available on the Internet. No cost or obligation of course.
No doubt, the housing market is shifting, and it can be a confusing place right now. I suggest that we connect so that I can help you make confident and informed decisions about what's happening. Minimize the fear or uncertainty that could change your plans. If you're unsure about how to make sense of what's going on in today's housing market, text or call me at 484-574-4088 or go to my web site, (johnherreid.com) and lets set up a time to meet, either on line or in person. I have the software so that we can meet virtually and make the best use of your time.
If you're looking to make that move up buy this year, I believe now is a good time to do it. The best way to ensure you're up to date on the latest market insights is to partner with a trusted real estate advisor. Let's connect. I would like to interview for the job of becoming your trusted real estate advisor.
One of the biggest benefits of owning a home, regardless of your income level, is that it provides financial stability and an avenue to build wealth. By selling your house and leveraging your equity, it can be easier to pay for your next home. Let's connect to find out how much equity you have in your current home and how you can use it to fuel your next purchase.
There are still clear opportunities for sellers this spring. If you're wondering if it's the right time to make a move, let's connect today.
If you're trying to decide whether to buy a home or continue renting, let's connect to explore your options. With rents rising, it probably makes more sense to pursue your dream of homeownership.
If you would like to listen to our 13 minute podcast on this topic, please click on the below hyperlink: https://bit.ly/Buying_Makes_More_Sense_Than_Renting