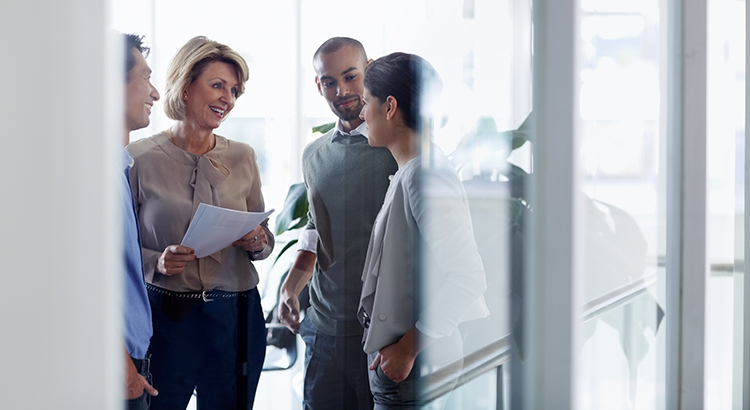 The housing market's been going through a lot of change lately, and there's been uncertainty surrounding what will happen this spring. You may be wondering if more homes will go on the market, what's next with home prices and mortgage rates, or what the best advice is for someone in your position right now.
Here's what industry experts are saying right now about the spring housing market and what it means for you:
Selma Hepp, Chief Economist, CoreLogic:
"We see more competition among buyers . . . Housing supply also tends to grow during the spring months. And this is also the time of year when relatively more migration happens, as people graduate and move elsewhere looking for jobs."
Greg McBride, Chief Financial Analyst, Bankrate:
"I don't expect big moves in prices in the span of a month, but like the flower buds of spring, the housing market is showing signs of improvement. A pick up in activity with inventory still low does bode well for home prices."
Rick Sharga, Founder and CEO, CJ Patrick Company:
"If you can find a home you love and can afford at today's prices, don't wait. Home prices in most of the country are unlikely to crash, and mortgage rates will only come down very gradually if they decline at all this year." 
Jeff Tucker, Senior Economist, Zillow:
"The market is still much friendlier this spring for buyers who can overcome affordability hurdles, but buyers are going to see more competition than they might expect because there are not many homes on the market to go around. New listings are increasing, which they almost always do this time of year, but not nearly as quickly as usual."
WHAT ABOUT WEST CHESTER?
I agree that home prices are steady and/or moving up.  I see little or no chance of any significant price decline in the foreseeable future. Here is why. 
Below chart shows the sales price history for Westchester from January 2021 through April 2023. In 2022, year over year prices were up in 9 of the same12 months from 2021. This trend continues in 2023 in 2 of  the four months. Year to date, prices are up by a substantial 2.5%.
WESTCHESTER AREA SCHOOL DISTRICT, MEDIAN SALES PRICE, SINGLE FAMILY DETACHED
Month
Sale Price
Sale Price
Difference
Diff %
Sale Price
Difference
Diff %
2021
2022
2023
Jan
$529,950
$607,500
$77,550
14.6%
$682,500
$75,000
12.3%
Feb
$495,000
$618,500
$123,500
24.9%
$650,000
$31,500
5.1%
Mar
$553,450
$703,500
$150,050
27.1%
$695,000
($8,500)
-1.2%
Apr
$648,800
$685,000
$36,200
5.6%
$652,500
($32,500)
-4.7%
May
$641,800
$730,000
$88,200
13.7%
Jun
$572,500
$738,750
$166,250
29.0%
Jul
$685,000
$698,000
$13,000
1.9%
Aug
$630,000
$625,000
($5,000)
-0.8%
Sep
$600,000
$655,000
$55,000
9.2%
Oct
$615,000
$610,000
($5,000)
-0.8%
Nov
$630,000
$576,000
($54,000)
-8.6%
Dec
$610,000
$635,000
$25,000
4.1%
Annual
$600,958
$656,854
$55,896
9.3%
YTD thru 4/27
$653,625
$670,000
$16,375
2.5%
Year Over Year Price Up in 9 of 12 months in 2022
Year Over Year Price Up in 2 of 4 months in 2023
YTD up by 2.5% in 2023
I believe these trends will continue. Why you ask.? Well, median days on market for the last 3 months have been 5, 4 and 6 respectively.  That means that if you have a home for sale and it is properly marketed and priced, you can reasonably expect to have an acceptable agreement of sale in about a week. That tells me there are a lot of buyers out there ready and willing to buy.
Also, we are still short on inventory. Decades of statistics tell us that we need 6 months of inventory to have a "Balanced Market". That is one where we have about equal numbers of buyers and sellers. Prices will still go up in this situation but about in tandem with the rate of inflation. Right now we have only 3 months of inventory, which means more buyers than sellers. What always happens when demand in higher than supply? Prices go up and that is what I expect to happen.
WHAT DOES THIS MEAN FOR BUYERS AND SELLERS TODAY? 
If you are a first time buyer, you can be quite sure that the value of your property will go up and you will have taken the best first step you can make to improve your family net worth.
For move up buyers with a home to sell, you can be quite sure that if your house is properly marketed and priced, you can expect an acceptable agreement of sale in about a week.
And you can also expect that the move up house you buy will continue to increase in value.
SUGGESTED NEXT STEPS FOR YOU TO MAKE SURE YOU HAVE THE INFORMATION YOU NEED TO MAKE THE RIGHT DECISION
It's also important to remember that every local market is different. That's why it's essential to lean on an expert for the latest information on the market in your area if you're planning to make a move this spring.
Do I think that now is a good time to sell and make that move up buy?  Again,  absolutely yes.
To get a quick update of what is new in real estate, click here to check out our new videos.
Interested in what recent clients think of my service? Click here to read what they say.
Interested to know what your house is worth? Click here to get the most extensive and accurate estimate of home value that is available on the Internet. No cost or obligation of course.
No doubt, the housing market is shifting, and it can be a confusing place right now. I suggest that we connect so that I can help you make confident and informed decisions about what's happening. Minimize the fear or uncertainty that could change your plans. If you're unsure about how to make sense of what's going on in today's housing market, text or call me at 484-574-4088 or go to my web site, (johnherreid.com) and lets set up a time to meet, either on line or in person. I have the software so that we can meet virtually and make the best use of your time.
If you're looking to make that move up buy this year, I believe now is a good time to do it. The best way to ensure you're up to date on the latest market insights is to partner with a trusted real estate advisor. Let's connect. I would like to interview for the job of becoming your trusted real estate advisor.
One of the biggest benefits of owning a home, regardless of your income level, is that it provides financial stability and an avenue to build wealth. By selling your house and leveraging your equity, it can be easier to pay for your next home. Let's connect to find out how much equity you have in your current home and how you can use it to fuel your next purchase.
There are still clear opportunities for sellers this spring. If you're wondering if it's the right time to make a move, let's connect today.
If you would prefer to listen to our recent 12 minute podcast on this subject, please click here:

https://bit.ly/Westchester_And_Media_Spring_Market