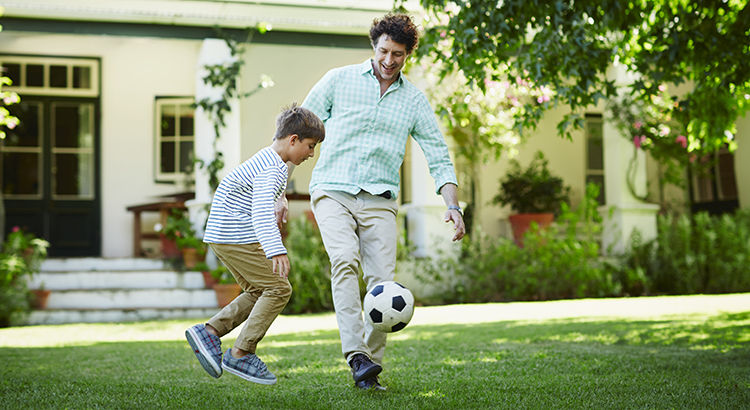 For potential home sellers in Chester County, there is a big advantage if you sell this Spring. Why?  The reasons are below.
Thinking about selling your house? If you've been waiting for the right time, it could be now while the supply of homes for sale is so low. HousingWire shares:
". . . the big question is whether we are finally starting to see the seasonal spring increase in inventory. The answer is no, because active listings fell to a new low last week for 2023 . . ."
The National Association of Realtors (NAR) confirms today's housing inventory is low by looking at the months' supply of homes on the market. In a balanced market, about a six-month supply is needed. Anything lower is a sellers' market. And today, the number is much lower:
"Total housing inventory registered at the end of February was 980,000 units, identical to January and up 15.3% from one year ago (850,000). Unsold inventory sits at a 2.6-month supply at the current sales pace, down 10.3% from January but up from 1.7 months in February 2022."
IF YOU ARE A MOVE UP BUYER, WHY IS THIS A GOOD TIME TO SELL? 
For a move up buyer family, there are three conditions that need to be met for this to be a good time for you to sell.
We will be able to find a house that we really want to move into.
We will get a price with which we are happy.
Our next house will probably continue to go up in value after we buy.
With respect to , will we be able to find a house that we really want to move into, especially with the low inventories? The below chart summarizes where we are with the inventory of single family homes in Chester county.
MONTHS OF RESIDENTIAL SINGLE FAMILY
INVENTORY, CHESCO, 2020 THRU MARCH 2023
Month
2020
2021
2022
2023
Jan
8
5
4
4
Feb
10
6
6
5
Mar
7
5
4
3
Apr
7
5
4
May
10
5
4
Jun
8
3
3
Jul
5
4
3
Aug
3
3
3
Sep
4
4
3
Oct
4
4
4
Nov
4
4
4
Dec
3
3
3
Annual
6.1
4.3
3.8
4.0
Strong Seller Market Inventory
If we had a balanced market of about 6 months inventory, it would normally take 30-45 days to find a house you really like. With inventory at half of that, it could take a lot longer.  But be assured, there is a house out there that you will love. I suggest you find that house first and finalize the deal before you put your house on the market. That way you know you will love it when yoy get  there.
With respect to the price, the less inventory there is on the market when you sell, the less competition you're likely to face from other sellers. That means your house will get more attention from the buyers looking for a home this spring. And since there are significantly more buyers in the market than there are homes for sale, you could even receive more than one offer on your house. Multiple offers are on the rise again (see graph below):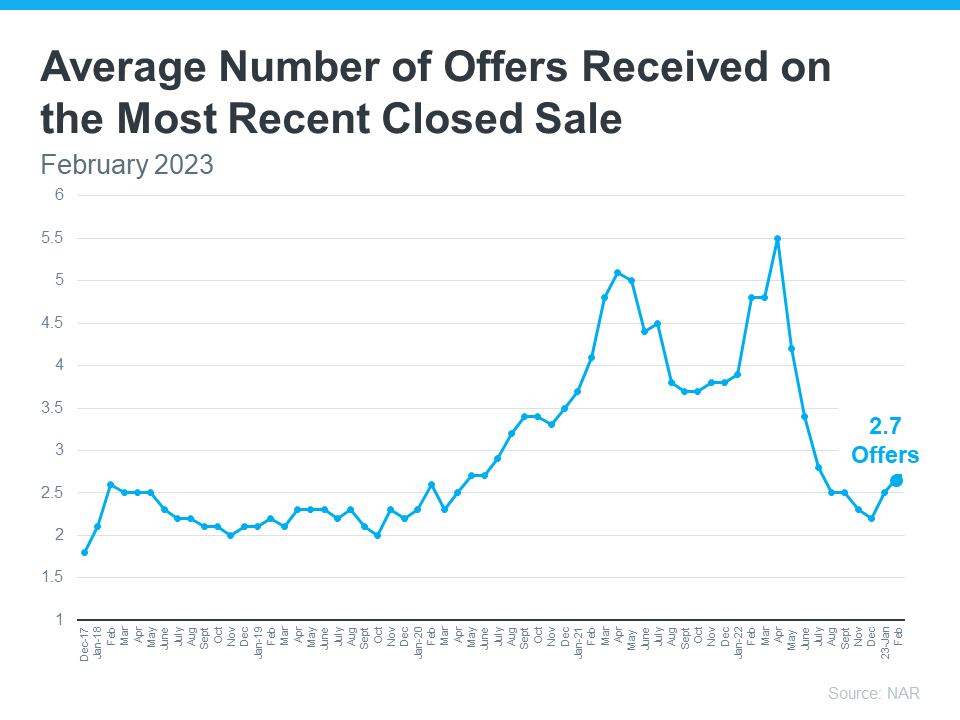 The below chart shows the sales price trend in Chester county.
CHESCO, MEDIAN SALES  PRICE, SINGLE FAMILY
2020 THRU MARCH 2023
Month
2020
2021
2022
2023
Jan
$396,250
$452,500
$484,900
$527,500
Feb
$385,000
$441,700
$510,000
$507,500
Mar
$386,792
$495,000
$525,000
$542,000
Apr
$425,000
$481,250
$540,000
May
$447,450
$512,021
$531,055
Jun
$429,950
$515,000
$600,000
Jul
$459,900
$531,000
$575,000
Aug
$460,000
$498,000
$550,000
Sep
$451,100
$479,900
$540,000
Oct
$453,000
$494,075
$549,500
Nov
$440,000
$499,000
$545,000
Dec
$451,000
$508,961
$500,000
Annual
$432,120
$492,367
$537,538
Annual %
13.9%
9.2%
Year over Year increases 12 of 12 months in 2021
11 of 12 months in 2022 and 2 of 3 months in 2023
Strong Upward Price Trend
The numbers in bold italics show the year over year months in which sales price was above the same month in the previous year. 11 out of 12 months in 2022 and 2 of 3 in 2023. That is a strong upward price trend that says you should be able to get a price that makes you happy, if your house is properly priced and marketed.
If you get more than one offer on your house, it becomes a bidding war between buyers – and that means you have greater leverage to sell on your terms. But if you want to maximize the opportunity for a bidding war to spark, be sure to lean on your expert real estate advisor. While we're still in a strong sellers' market, it isn't the frenzy we saw a couple of years ago, and today's buyers are focused on the houses with the greatest appeal.
I believe that these data show we are still in a strong sellers' market and the risk of any significant downtrend in prices is very small.
For the move up buyer, you also have excellent prospects that your new house wil continue to go up in value. So now is the time to make that move and start to increase your family's net worth.
One more question needs to be answered and that is, will we be able to sell our house soon enough to avoid having two mortgages to pay. My recommendations here are:
Negotiate a long time period from offer acceptance to settlement on the house you buy.
Then get your house on the market with a good realtor, priced right and marketed right.
The below chart summarizes the recent history of days on market or about how long it should take you to sell.
CHESCO, DAYS ON MARKET (DOM), 2020 THRU MARCH 2023
SINGLE FAMILY, DETACHED
Month
DOM, 2020
DOM,2021
DOM 2022
DOM 2023
Jan
45
8
7
14
Feb
48
9
8
8
Mar
26
7
6
6
Apr
13
6
5
May
13
5
6
Jun
14
6
6
Jul
9
6
6
Aug
7
6
7
Sep
8
7
7
Oct
7
6
7
Nov
7
8
7
Dec
7
7
12
As you can see, median days on market for most of the last two years have been about a week. That means that you can reasonably expect to have an offer with which you are comfortable in about seven days. That really minimizes the risk that you could get stuck with two mortgages. If you have 60 days to settle and get your house sold in a week, you should be in great shape. Here again, you can really use the services of a good realtor.
SUGGESTED NEXT STEPS FOR YOU TO MAKE SURE YOU HAVE THE INFORMATION YOU NEED TO MAKE THE RIGHT DECISION
It's also important to remember that every local market is different. That's why it's essential to lean on an expert for the latest information on the market in your area if you're planning to make a move this spring.
Do I think that now is a good time to sell and make that move up buy?  Again,  absolutely yes.
To get a quick update of what is new in real estate, click here to check out our new videos.
Interested in what recent clients think of my service? Click here to read what they say.
Interested to know what your house is worth? 

Click

here

 to get the most extensive and accurate estimate of home value that is available on the Internet. No cost or obligation of course.
No doubt, the housing market is shifting, and it can be a confusing place right now. I suggest that we connect so that I can help you make confident and informed decisions about what's happening. Minimize the fear or uncertainty that could change your plans. If you're unsure about how to make sense of what's going on in today's housing market, text or call me at 484-574-4088 or go to my web site, (johnherreid.com) and lets set up a time to meet, either on line or in person. I have the software so that we can meet virtually and make the best use of your time.
If you're looking to make that move up buy this year, I believe now is a good time to do it. The best way to ensure you're up to date on the latest market insights is to partner with a trusted real estate advisor. Let's connect. I would like to interview for the job of becoming your trusted real estate advisor.
One of the biggest benefits of owning a home, regardless of your income level, is that it provides financial stability and an avenue to build wealth. By selling your house and leveraging your equity, it can be easier to pay for your next home. 

Let's connect

 to find out how much equity you have in your current home and how you can use it to fuel your next purchase.
There are still clear opportunities for sellers this spring. If you're wondering if it's the right time to make a move, let's connect today.
If you would like to listent to our 14 minute podcast on this topic, please click  https://bit.ly/Big_Advantage_If_You_Sell_This_Spring