DELAWARE COUNTY, What's Ahead for Home Prices in 2023?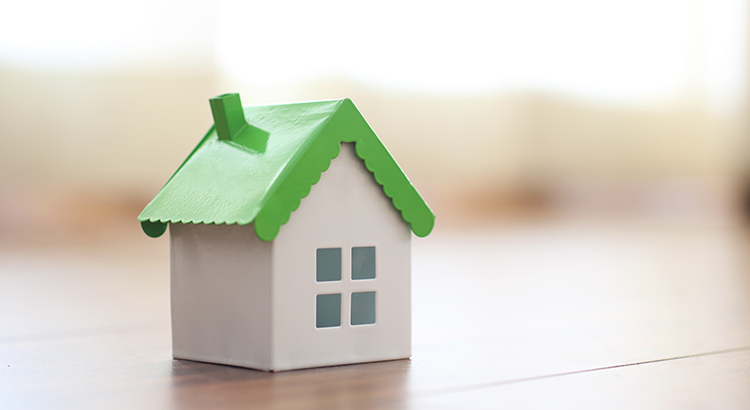 Over the past year, home prices have been a widely debated topic. Some have said we'll see a massive drop in prices and that this could be a repeat of 2008 – which hasn't happened. Others have forecasted a real estate market that could see slight appreciation or depreciation depending on the area of the country. And as we get closer to the spring real estate market, experts are continuing to forecast what they believe will happen with home prices this year and beyond.
Selma Hepp, Chief Economist at CoreLogic, says:
"While 2023 kicked off on a more optimistic note for the U.S. housing market, recent mortgage rate volatility highlights how much uncertainty remains. Nevertheless, the continued shortage of for-sale homes is likely to keep price declines modest, which are projected to top out at 3% peak to trough."
Additionally, every quarter, Pulsenomics surveys a panel of over 100 economists, investment strategists, and housing market analysts regarding their five-year expectations for future home prices in the United States. Here's what they said most recently: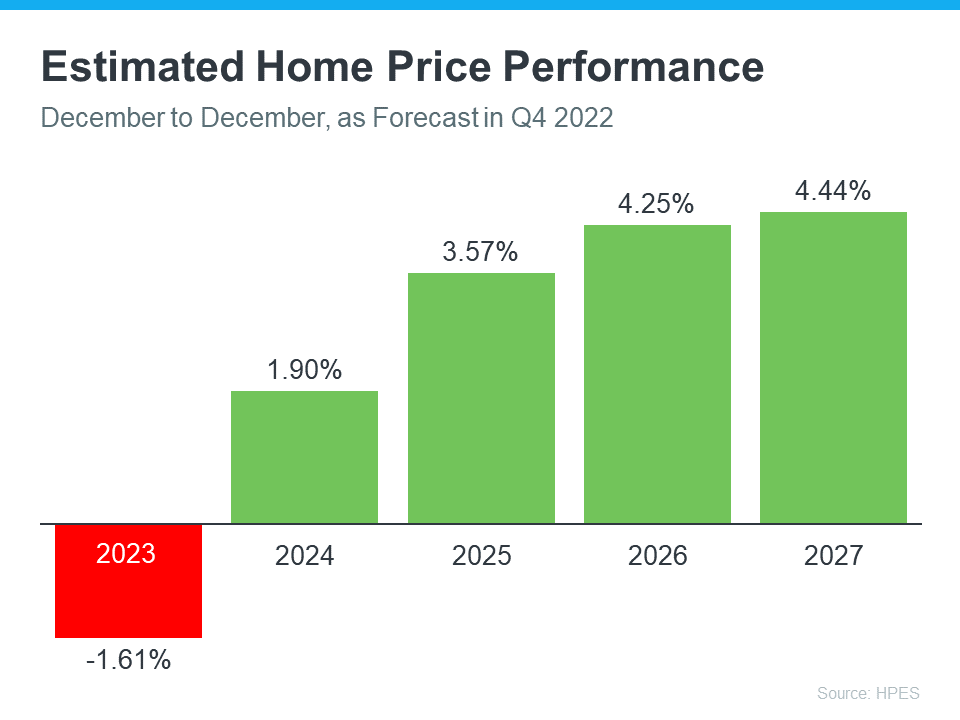 So, given this information and what experts are saying about home prices, the question you might be asking is: should I buy a home this spring? Here are three reasons you should consider making a move:
Buying a home helps you escape the cycle of rising rents. Over the past several decades, the median price of rent has risen consistently. The bottom line is, rent is

going

up.
Homeownership is a hedge against inflation. A key advantage of homeownership is that it's one of the best hedges against inflation. When you buy a home with a fixed-rate mortgage, you secure your housing payment, so it won't go up like it would if you rent.
Homeownership is a powerful wealth-building tool. The average net worth of a homeowner is $255,000 compared to $6,300 for a renter.
Experts are projecting slight price depreciation in the national housing market this year, followed by steady appreciation. Given that, you may be wondering if you should move ahead with buying a home this spring. The decision to purchase a home is best made when you do it knowing all the facts and have an expert on your side.
Here are my thoughts on whether or not the time is right for a first time home buyer or for a move seller who wants to move into an upgraded house.
For Delaware county, my  recommendation is a RESOUNDING YES, for both questions. And here is why.
Single family home prices are still rising. Just take a look at the below chart.
DELAWARE COUNTY, MEDIAN SALES PRICE, SINGLE FAMILY DETACHED
Month
Sale Price
Sale Price
Difference
Diff %
Sale Price
Difference
Diff %
Median, 2021
Median, 2022
Median, 2023
Jan
$359,000
$360,000
$1,000
0.3%
$375,000
$15,000
4.2%
Feb
$335,450
$376,000
$40,550
12.1%
$390,000
$14,000
3.7%
Mar
$369,500
$403,500
$34,000
9.2%
$394,500
($9,000)
-2.2%
Apr
$400,000
$415,000
$15,000
3.8%
May
$400,000
$427,000
$27,000
6.8%
Jun
$410,000
$451,500
$41,500
10.1%
Jul
$425,000
$420,000
($5,000)
-1.2%
Aug
$415,000
$430,000
$15,000
3.6%
Sep
$385,000
$385,000
$0
0.0%
Oct
$400,000
$390,000
($10,000)
-2.5%
Nov
$384,900
$410,000
$25,100
6.5%
Dec
$380,000
$420,000
$40,000
10.5%
Annual
$388,654
$407,333
$18,679
4.8%
Year over Year, Median Price Up in 10 of 12 Months in 2022; Up 4.8 % for the year.
Trend cotinues into 2023, 2 of 3 months, YTD
Median sales price was up in 10 of 12 months from 2021 to 2022.  Trend went  negative for one month in 2023, but Year to Date is still positive. This tells me that we still have a powerful upward trend in prices. Here is more date to back that up.
National Association of Realtors data going back decades tells us that when we have less than 6 months of inventory, that means we have more buyers than sellers. What always happens when demandis higher than supply.  Prices go up.
DELAWARE COUNTY, MONTHS OF INVENTORY, SINGLE FAMILY, DETACHED
Month
2014
2015
2016
2017
2018
2019
2020
2021
2022
2023
Jan
11
9
9
6
7
7
5
3
3
4
Feb
14
11
10
9
8
7
7
5
4
3
Mar
11
10
10
7
6
7
5
4
3
2
Apr
10
9
8
7
5
5
5
4
3
May
8
8
6
5
5
4
6
4
3
Dec
6
6
4
4
3
3
6
3
3
Jul
7
6
5
5
4
4
3
3
3
Aug
7
7
5
4
4
4
3
3
2
Sep
9
8
6
6
6
5
3
4
3
Oct
9
7
7
6
5
6
3
3
3
Nov
8
10
6
5
5
6
3
3
3
Dec
7
6
5
4
4
4
3
2
2
Annual
8.9
8.1
6.8
5.7
5.2
5.2
4.3
3.4
2.9
3.0
After the federal government induced market collapse of 2008, it took until July of 2020 for inventory to get below 6 months and stay there.  As would have been predicted, that is when sales price increases really accelerated as shown in the below chart
DELAWARE COUNTY, MEDIAN SALES PRICE, SINGLE FAMILY, DETACHED
Primary Year
Sale Price, Median
Difference
% Diff
2014
$275,000
2015
$270,000
($5,000)
-1.8%
2016
$280,500
$10,500
3.9%
2017
$297,750
$17,250
6.1%
2018
$305,000
$7,250
2.4%
2019
$320,000
$15,000
4.9%
2020
$350,000
$30,000
9.4%
2021
$390,000
$40,000
11.4%
2022
$410,000
$20,000
5.1%
Average % Increase Starting 2016
6.6%
Price increases of 5 to 11% are too high to be sustainable long term. But given the low inventories in our area, I see little chance for any signiificant price decreases in the foreseeable future.
IMPLICATIONS FOR BUYERS AND SELLERS TODAY
Is it a good time for first time buyer to get in the market? Yes. There will never be a better time to get that first house and begin to build your family's net worth.
Is it a good time for move up buyers to sell and get into that bigger better house they have been wanting.  Again, yes. They will be able to sell for a price they can be happy with.
With so few homes available for sale today, it's important to work with a trusted real estate agent who understands your local area and can navigate the current market volatility.  Finding a home you really want to move to can be a bit more difficult today and you need the advice of an experienced and capable agent to make sure that it works for you.
SUGGESTED NEXT STEPS FOR YOU TO MAKE SURE YOU HAVE THE INFORMATION YOU NEED TO MAKE THE RIGHT DECISION
It's also important to remember that every local market is different. That's why it's essential to lean on an expert for the latest information on the market in your area if you're planning to make a move this spring.
Do I think that now is a good time to sell and make that move up buy?  Again,  absolutely yes.
To get a quick update of what is new in real estate, click here to check out our new videos.
Interested in what recent clients think of my service? Click here to read what they say.
Interested to know what your house is worth? 

Click

here

 to get the most extensive and accurate estimate of home value that is available on the Internet. No cost or obligation of course.
No doubt, the housing market is shifting, and it can be a confusing place right now. I suggest that we connect so that I can help you make confident and informed decisions about what's happening. Minimize the fear or uncertainty that could change your plans. If you're unsure about how to make sense of what's going on in today's housing market, text or call me at 484-574-4088 or go to my web site, (johnherreid.com) and lets set up a time to meet, either on line or in person. I have the software so that we can meet virtually and make the best use of your time.
If you're looking to make that move up buy this year, I believe now is a good time to do it. The best way to ensure you're up to date on the latest market insights is to partner with a trusted real estate advisor. Let's connect. I would like to interview for the job of becoming your trusted real estate advisor.
One of the biggest benefits of owning a home, regardless of your income level, is that it provides financial stability and an avenue to build wealth. By selling your house and leveraging your equity, it can be easier to pay for your next home. 

Let's connect

 to find out how much equity you have in your current home and how you can use it to fuel your next purchase.
There are still clear opportunities for sellers this spring. If you're wondering if it's the right time to make a move, let's connect today.f
If you would like to hear more about this topic, please click on

https://bit.ly/What_Is_Ahead_For_Home_Prices_In_2023

to hear our 12 minute podcast.