WEST CHESTER, PA; THE Major Benefit of Investing in a Home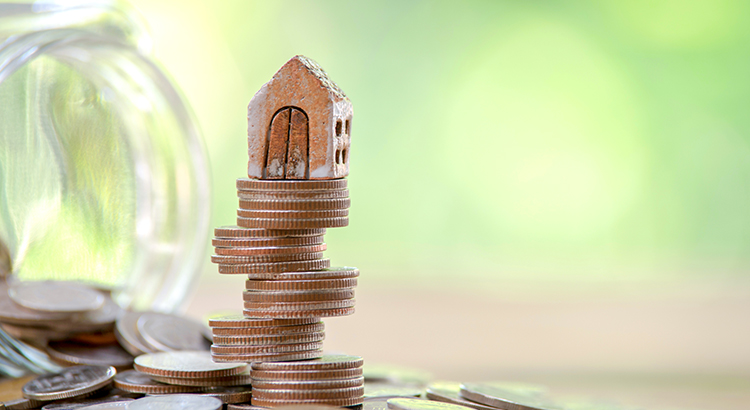 CONCLUSIONS
Is now  good time to buy that first home or
Is now a good time to make that Move Up Buy?
Almost unequivocally the answer is YES!!!!!
DISCUSSION
Or if you would like to listen to our recent 12 minute long Dad and Daughter Talk Real Estate Broadcast of this topic, just click on https://bit.ly/Major_Benefit_of_Investing_in_a_Home 
One of the many reasons to buy a home is that it's a major way to build wealth and gain financial stability. According to Freddie Mac: "Building equity through your monthly principal payments and appreciation is a critical part of homeownership that can help you create financial stability."
With spring approaching, now's a great time to consider if buying a home makes sense for you. The best way to figure that out is to talk with a trusted real estate professional.
The Largest Part of Most Homeowners' Net Worth Is Their Equity
You may be surprised to learn just how much of a homeowner's net worth actually comes from owning their home. The National Association of Realtors (NAR) shares:
"Homeownership is the largest source of wealth among families, with the median value of a primary residence worth about ten times the median value of financial assets held by families. Housing wealth (home equity or net worth) gains are built up through price appreciation and by paying off the mortgage."
In other words, home equity does more to build the average household's wealth than anything else. And according to data from First American, this holds true across different income levels (see graph below):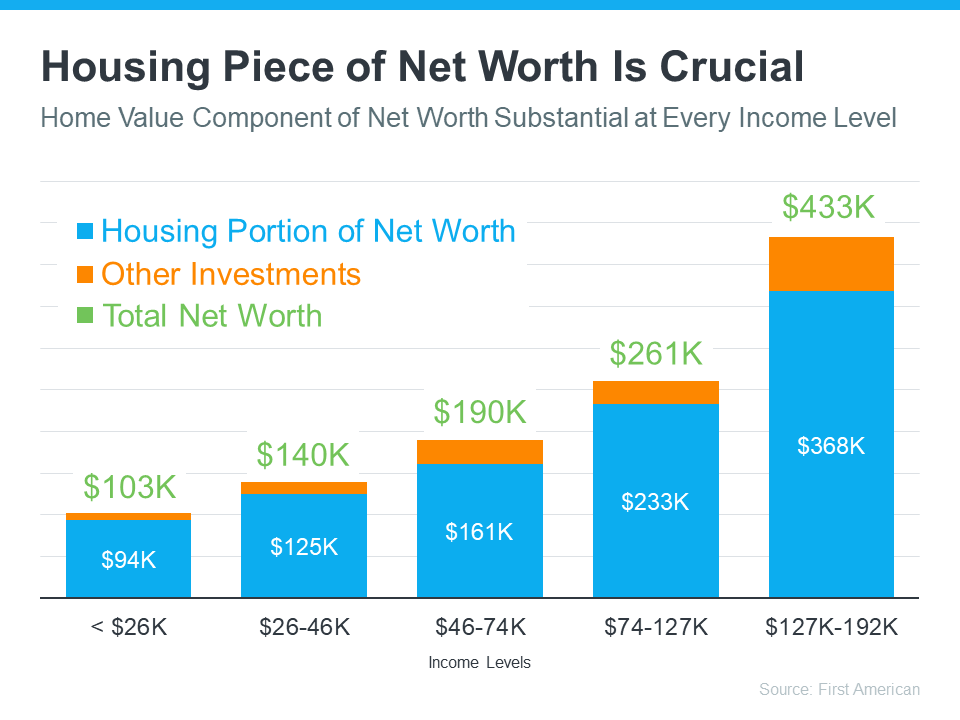 INVESTMENT CASE HISTORY, AUTHOR'S HOME OWNERSHIP EXPERIENCE
We moved to Pennsylvania in 1979 for a job  with Scott Paper Company, back when there was a Scott Paper Company.  Conversations with fellow employees to find a house that was convenient to the job and in a great school district for our 11, 9 and 5 year old daughters led to Wallingford, Delaware county.  We purchased a structurally sound, cosmetically all beat to pieces home for a fixer upper price (still high for the time, please don't laugh) of $83,000.
After lots of love, elbow grease, marvelous neighbors and wonderful family times, we sold in 2023 (44 years later for $695,000). That is a gain of $612,000. Capital improvements reduce the taxable gain to just under $500,000. That makes the entire gain exempt from income taxes. As opposed to stock market investments on which we pay short or long term capital gains taxes on every profitable transaction. And we also had income tax deductions every year for mortgage interest and property taxes.
That is a compounded rate of return of 4.93% per year.  Historical average annual appreciation rate over several decades in the United States is 3.5%, so we beat the averages. I should add that, for people who are concerned about short term market corrections (like 1980-1986 when prices were flat and 2008-2013 when prices declined by a lot), our gain was achieved despite those lean years.
Now lets take a peek into the future. What probably is in store for a family who buys the median priced home in West Chester ($540,000)? If we assume the average appreciation rate of 3.5%, That is a minimal risk if you plan to stay in the house for at least 5-10 years. With those conditions, here is the estimated home value at 10, 20 and 20 years into the future.
2033, $762,000, Gain of $222,000
2043, $1,074,000, Gain of $534,000
2053, $1,516,000, Gain of $976,000
I think you can see how making this investment is going to provide for a much improved net worth after just  few years.
To give you an actual historical summary of how this would have worked for you if you had bought the median priced house in West Chester back in 2014, here is the data. This is probably the best estimate we can give you for how it will probably work out in the future also.
Median Sales Price, West Chester, PA
Primary Year
Sale Price, Median
Difference
Diff %
2014
$415,000
2015
$429,950
$14,950
3.5%
2016
$434,900
$4,950
1.1%
2017
$450,000
$15,100
3.4%
2018
$482,395
$32,395
6.7%
2019
$500,000
$17,605
3.5%
2020
$530,000
$30,000
5.7%
2021
$625,000
$95,000
15.2%
2022
$695,000
$70,000
10.1%
Overall
$280,000
67.5%
Unfortunately my data does not go back any farther than that. But you get the idea. Eight years ago that would have been an amazing investment.  There is always risk associated with any investment, but with residential real estate, the risk is minimal.
RECOMMENDATIONS FOR YOU
To get a quick update of what is new in real estate, click here to check out our new videos.
Interested in what recent clients think of my service? Click here to read what they say. 
Interested to know what your house is worth? Click here to get the most extensive and accurate estimate of home value that is available on the Internet. No cost or obligation of course.
No doubt, the housing market is shifting, and it can be a confusing place right now. I suggest that we connect so that I can help you make confident and informed decisions about what's happening. Minimize the fear or uncertainty that could change your plans. If you're unsure about how to make sense of what's going on in today's housing market, text or call me at 484-574-4088 or go to my web site, (johnherreid.com) and lets set up a time to meet, either on line or in person. I have the software so that we can meet virtually and make the best use of your time.
If you're looking to make that move up buy this year, I believe now is a good time to do it. The best way to ensure you're up to date on the latest market insights is to partner with a trusted real estate advisor. Let's connect. I would like to interview for the job of becoming your trusted real estate advisor.
One of the biggest benefits of owning a home, regardless of your income level, is that it provides financial stability and an avenue to build wealth. Let's connect to find out how much equity you have in your current home and how you can use it to fuel your next purchase.