WEST CHESTER, PA What's Really Happening with Home Prices?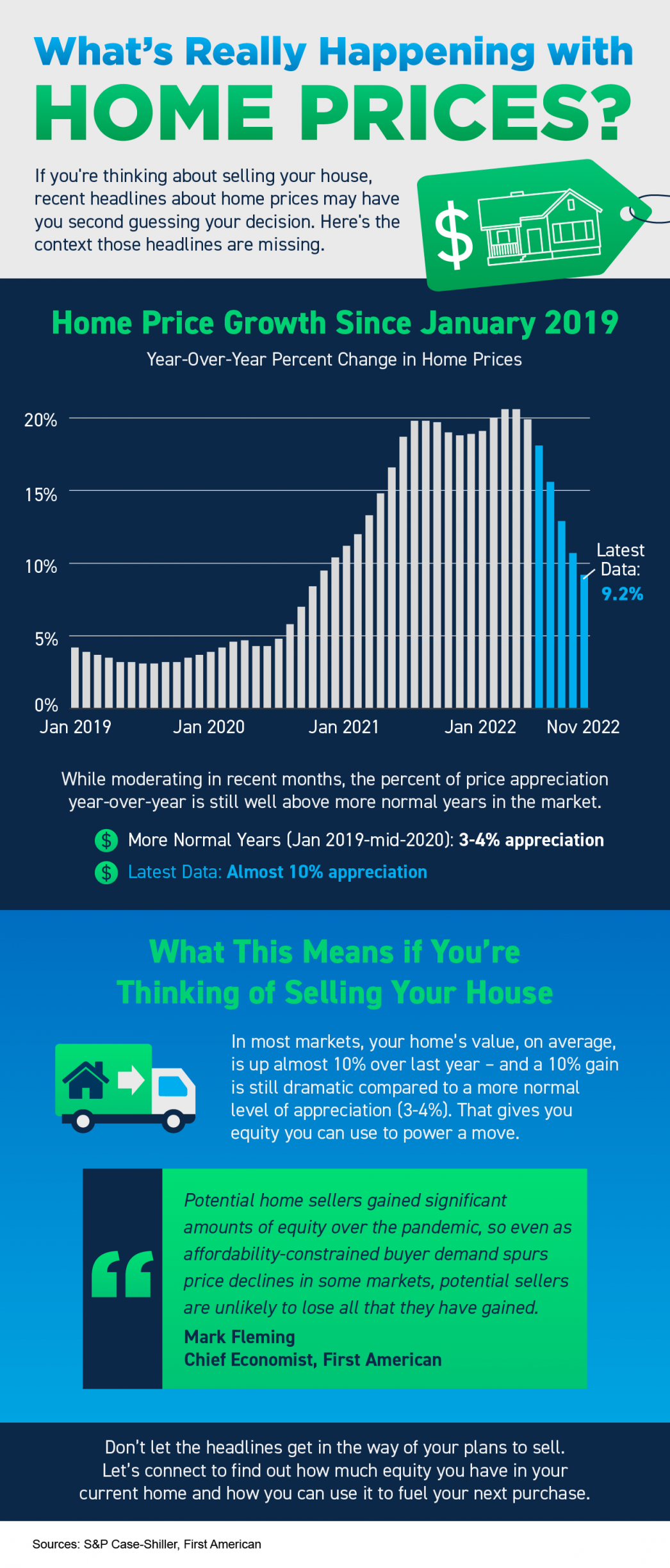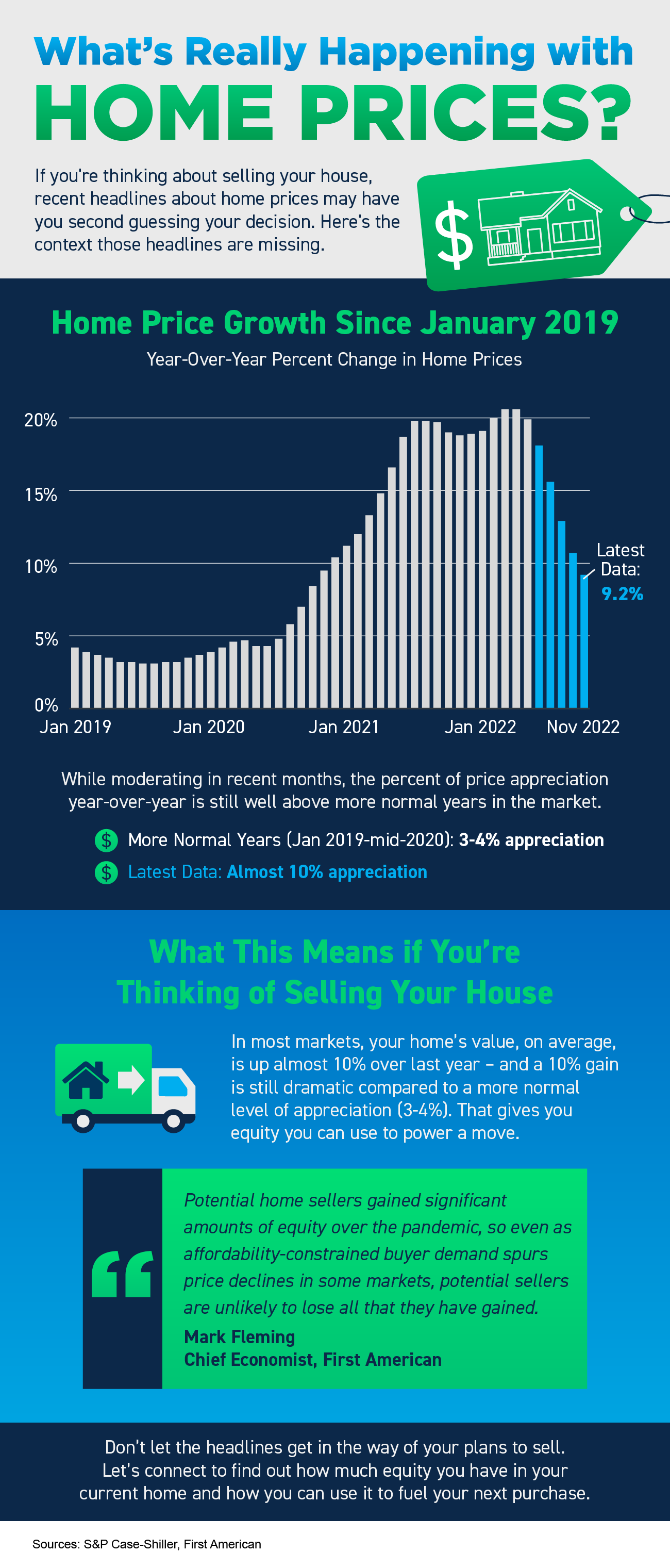 CONCLUSIONS:
Home prices in Chester county are not only maintaining their previous levels, they are still strongly accelerating
If you are thinking about buying or selling a home, you can be assured that prices will be stable or increasing for the foreseeable future.
Numbers of sales are down a lot, but
Houses are still selling quickly.
Stated differently, you can buy or sell without fear that prices will go down.
DISCUSSION
If you're thinking about selling your house, recent headlines about home prices falling month-over-month may have you second guessing your decision—but perspective matters.
While home prices are down slightly month-over-month in some markets, home values are still up almost 10% nationally on a year-over-year basis. A nearly 10% gain is still dramatic compared to the more normal level of appreciation, which is 3-4%.
Let's connect to find out how much equity you have in your current home and how you can use it to fuel your next purchase.
WHAT'S REALLY GOING ON FOR CHESTER COUNTY
Like the fellow says, all politics is local. Same is true for real estate. The only factors that really matter are those that are happening in our neighborhoods.
Here is a snapshot of Sales Prices in Chester county over the last 2 years +
WEST CHESTER PENNSYLVANIA, MEDIAN SALES PRICES, 2021 THROUGH JANUARY 2023
Month
    Sale Price
    Sale Price
Difference
 % Diff
Sale Price
Median 2021
Median 2022
Median 2022
Jan
$590,000
$615,000
$25,000
4.2%
$680,000
Feb
$629,000
$625,000
($4,000)
-0.6%
Mar
$585,000
$687,800
$102,800
17.6%
Apr
$565,000
$730,000
$165,000
29.2%
May
$646,300
$730,000
$83,700
13.0%
Jun
$575,000
$758,750
$183,750
32.0%
Jul
$689,450
$676,000
($13,450)
-2.0%
Aug
$649,817
$675,000
$25,183
3.9%
Sep
$618,000
$710,000
$92,000
14.9%
Oct
$612,500
$655,000
$42,500
6.9%
Nov
$630,000
$564,500
($65,500)
-10.4%
Dec
$610,000
$685,000
$75,000
12.3%
Totals
$616,672
$676,004
$59,332
9.6%
As you can see the price realization in West Chester is real and robust.  The entire year from 2021 to 2022 showed a 9.6% gain. The trend continues through January 2023. That is too real and robust to continue as the long term average is about 3.5%. However these data show that the local market is healthy with a strong demand.
What about the scare  headlines that say, THE REAL ESTATE MARKET HAS COLLAPSED. If we only look at numbers of sales, that is true. But if you are a seller or a buyer, what matters to you is can I sell or can I buy and what are the prices. Below is a chart of the numbers of sales in West Chester over the past 2 years +
WEST CHESTER, PA; NUMBERS OF SALES, SINGLE FAMILY HOMES,
Month
Sales
Sales
Diff
% Diff
Sales
Diff
% Diff
2021
2022
2023
Jan
53
51
(2)
-4%
23
(28)
-55%
Feb
34
33
(1)
-3%
Mar
67
56
(11)
-16%
Apr
51
51
0
0%
May
70
56
(14)
-20%
Jun
101
94
(7)
-7%
Jul
80
69
(11)
-14%
Aug
100
64
(36)
-36%
Sep
76
59
(17)
-22%
Oct
78
49
(29)
-37%
Nov
65
40
(25)
-38%
Dec
68
43
(25)
-37%
Totals
843
665
(178)
-21%
Numbers of sales are down a lot. -21% in 2022 and -55% in January, 2023. But that is only part of the story. As we saw above prices are still holding very steady and increasing.  Now how about another huge indicator, how long does it take to get a house sold? Below are the numbers that tell the tale. Homes are still selling rapidly in Chester County. That says there iare still more buyers than sellers. As long as that is true, prices will still be stable or rising, homes will sell quickly and both buyers and sellers can be assured that the market is not collapsing like it did in 2008/9.
CHESTER COUNTY, SINGLE FAMILY HOMES, DAYS ON MARKET
 JAN 2021 THRU JAN 2023
Month
CDOM
CDOM
CDOM
Median 2021
Median 2022
Median 2023
Jan
8
7
15
Feb
9
8
Mar
7
6
Apr
6
5
May
5
6
Jun
6
6
Jul
6
6
Aug
6
7
Sep
7
7
Oct
6
7
Nov
8
7
Dec
7
12
RECOMMENDATIONS
To get a quick update of what is new in real estate, click here to check out our new videos.
Interested in what recent clients think of my service? Click here to read what they say. 
Interested to know what your house is worth? Click here to get the most extensive and accurate estimate of home value that is available on the Internet. No cost or obligation of course.
No doubt, the housing market is shifting, and it can be a confusing place right now. I suggest that we connect so that I can help you make confident and informed decisions about what's happening. Minimize the fear or uncertainty that could change your plans. If you're unsure about how to make sense of what's going on in today's housing market, text or call me at 484-574-4088 or go to my web site, (johnherreid.com) and lets set up a time to meet, either on line or in person. I have the software so that we can meet virtually and make the best use of your time.
If you're looking to make that move up buy this year, I believe now is a good time to do it. The best way to ensure you're up to date on the latest market insights is to partner with a trusted real estate advisor. Let's connect. I would like to interview for the job of becoming your trusted real estate advisor.
Let's connect to find out how much equity you have in your current home and how you can use it to fuel your next purchase.